2009 European Highland Games Championships
David Webster, OBE, president of the International Highland Games Federation (IHGF), announced that the European Highland Games Championships will be returning to Bressuire, France again next year.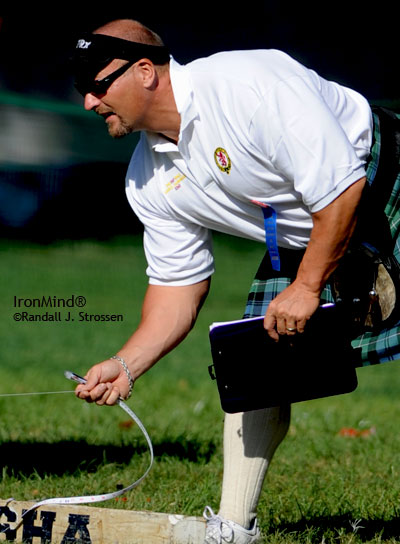 Francis Brebner checks a measurement at the Pleasanton Highland Games (put on by the Caledonian Club of San Francisco). Brebner will be refereeing at the 2009 IHGF European Championships. IronMind® | Randall J. Strossen photo.


Mr. Webster confirmed that an agreement between Jean Louis of the Bressuire Games Committee and the IHGF had been signed, and that the competition is scheduled for June 13 - 14.

According to an IHGF statement, Bressuire first hosted the IHGF European Championships in 2003 and drew 2,000 spectators, especially impressive since that was Bressuire's very first official Highland Games, even if the city had previously hosted several throwing exhibitions. Since then, attendance has swelled to over 8,000 spectators at the 2008 IHGF European Highland Games Championships, which IHGF officials told IronMind "is in big part due to all the hard work of the Bressuire Organizing Committee and the support of their sponsors such as Bouvet and Ladubay."

"The Games are set in what can only be described as one of the best locations ever seen for staging a championships event," IHGF referee Francis Brebner told IronMind®. "The contest is held on the grounds of a 1,000-year-old castle, which gives a realistic, ancient and traditional feel to the whole event."

Saying that, "No doubt, this will be the best European representations ever assembled for the championships, and should prove to be a very electrifying indeed," Brebner listed the following competitors for next year's contest: Gregor Edmunds (Scotland), Craig Sinclair (Scotland), Stephen King (Scotland), Craig Smith (Scotland), Scot Rider (England), Tommy Debrun (Belgium), Hans Lolkemo (Holland), Auden Jonsson (Iceland), Antony Lordie (Switzerland), Geir Standall (Norway), and Dariusz Slowik (Poland).

The IHGF is working to increase television coverage of the Highland Games, and IronMind was told, "If all goes as planned with filming for next year, the IHGF European Championships will be filmed for cable TV, giving the athletes and the sport vast media exposure."

Ryan Vierra shared Francis Brebner's enthusiasm about this announcement, and both men said they were "delighted in seeing the European Championships returning to France. There is no doubt that Bressuire is one of the best Games on European Highland Games circuit, and as Bressuire moves forward with future planned IHGF sanctioned events, this will only promote and advance their Games even more on a worldwide scale."