2008 Pittsburgh Open Weightlifting Championships
"Time to adjust your training cycle, increase your intensity, lay in some extra protein powder and crank it up in the gym because the Pittsburgh Open Weightlifting Championships are right around the corner!"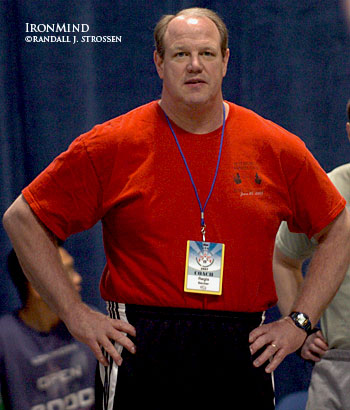 Rege Becker, shown in the warm-up room at the 2007 USA Weightlifting National Championships, is inviting lifters, coaches, officials and fans to the 2008 Pittsburgh Open Weightlifting Championships on January 27. IronMind® | Randall J. Strossen, Ph.D. photo.
Rege Becker is beating the drum, and for good reason: "This event has become a standard stop for some of the best weightlifters in the Midwest and an annual tune-up for the Arnold Classic. Come on down and lift, coach, judge, load or just hang out with people who love weightlifting.

"Once again, in deference to the football fanatics (this is Pittsburgh, after all) the meet will be held on Sunday January 27th, the weekend between the NFC/AFC Championships and the Superbowl so you can enjoy it with out missing a down of your favorite team."

For full details, please call or email Rege Becker: (412) 276-7905; regis.becker@verizon.net.