2008 IHGF World Highland Games
"Arlington, Texas will be the host of this year's IHGF World Highland Games, sponsored by American Airlines, and the line up will include an array of the top international athletes worthy of any world championships," ace MILO® Highland Games reporter Francis Brebner told IronMind®.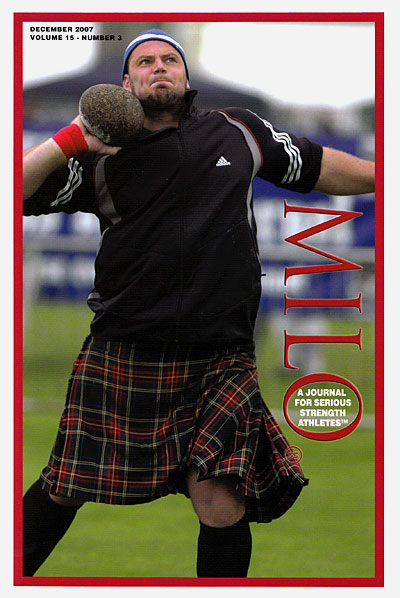 Would you date this man? Apparently Gregor Edmunds, the defending Highland Games world champion and December 2007 MILO® cover guy, said he's single, and then one thing led to another . . . Y'all think he'll get out of Texas unbridled? IronMind® | Randall J. Strossen photo.


Francis Brebner's comments about the competitors is no idle boast - look at the entry list:

Gregor Edmunds (Scotland), current world champion
Greg Hadley (Canada), current Canadian champion
Larry Brock (USA), current world hammer champion
Sean Betz (USA), current American champion
Mike Zolkowitz (USA)
Andrew Hobson (USA)
John Gallagher (USA)
Harrison Bailey (USA)

Equally august, David Webster, OBE will be doing the commentating and Francis Brebner will be judging the competition, which is scheduled for June 7 - 8.

"Already . . . this season has barely begun with some remarkable distances thrown by the Americans, which gives us an idea of what's to come," Brebner told IronMind®. "I wouldn't be surprised if we see some world records tumble, especially with the weights for distance later on during the season."

But not everything is so serious.

"A last minute additional event was added to the list," Brebner continued, "after Gregor Edmunds mentioned in his bio that his status was single and that he was on the lookout for a Texan bride. The Games committee thought it would be a good idea to sponsor a date with Gregor."

"Since the advertising of the sponsored date with Gregor's picture, the Games have been inundated with dozens of requests, a little bit like the TV's The Bachelor, you might say. Local TV will be filming the Games and following Gregor throughout the date, also."

Win a Highland Games World Championship, make a MILO® cover, and the world becomes your oyster.