2008 Highlander Challenge World Championships
Dr. Douglas Edmunds, fondly known as the godfather of strongman, appears to be focusing his latest efforts on the Highlander Games - a concept that combines "traditional throws, gladatorial challenges and feats of strength."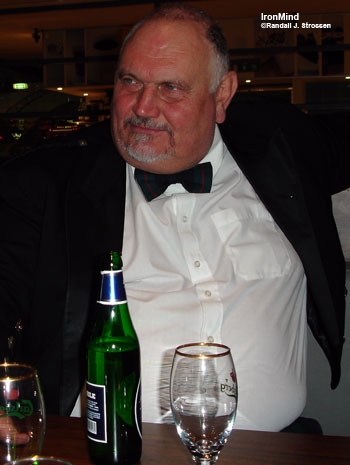 Dr. Douglas Edmunds, long a central figure in strongman, appears to be focusing on a new concept, the Highlander Games, and he has announced a television production which will include some traditional events along with the gladatorial element that Edmunds favors. IronMind® | Randall J. Strossen photo.


The 2008 Highlander World Championships will be held July 19-20 at Scone Palace (near Perth, Scotland), and the competition will be structured with "two international qualifying heats," and "all athletes will be world champions, record-holders or Olympians," Edmunds said.

Edmunds sees the Highlander Games as "a fusion of historical links and traditional sport echoing the preparations for war by our ancestors," and the results of his promotional efforts will be three one-hour television programs for Channel 4 in the UK. Although this sounds a bit tame compared to the near-carnage anticipated on the competitive field, Edmunds reported that a "supporting program of interactive dancing, music and other attractions" would also be included.