2008 Arnold Armwrestling: Last Qualifier This Weekend
This weekend is the last qualifier for armwrestling at the 2008 Arnold, so expect to see the heavy artillery rolled out at Isle of Capri Casino & Hotel in Bettendorf, Iowa.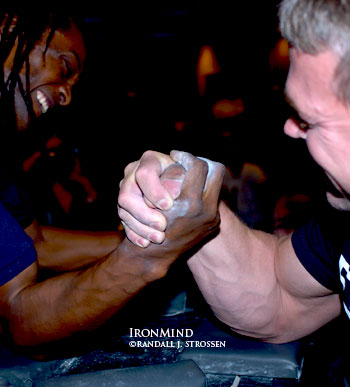 Among the top guns you'll see this weekend at the International Tournament of Champions are Cobra Rhodes (left) and John Brzenk (right). Consider that John Brzenk's forearm is a performance tool, not just a piece of eye candy, and if you want to see it action, be in Bettendorf, Iowa this weekend or at the 2008 Arnold. IronMind® | Randall J. Strossen, Ph.D. photo.
US Armwrestling's Leonard Harkless told IronMind® that among the big names who are expected to be pulling this weekend are John Brzenk, Allen Fisher, Cobra Rhodes and Chris Chandler. For all the details, please check the US Armwrestling's website.

Incidentally, if you've never seen the Fisher Forearm in person, that's another eyeful of wrist-wrenching, table-twisting muscle.