2008 All-American Strongman Challenge
IronMind® has just received the official start list for the All-American Strongman Challenge, set for next month at the FitExpo.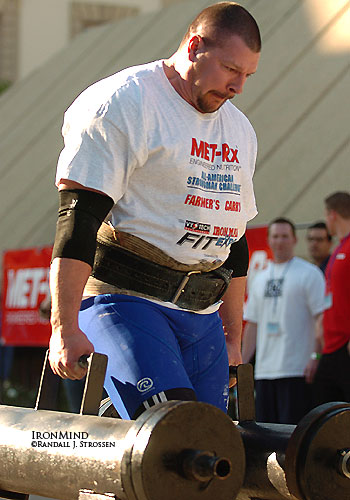 Karl Gillingham won the 2007 All-American Strongman Challenge at the FitExpo last year, and he went on to compete at the 2007 World's Strongest Man contest. Who will follow in Karl's footsteps? IronMind® | Randall J. Strossen photo.


They range from 25 to 58 years old, from 5' 8" to 6' 7" tall, and from 290 to 340 pounds in bodyweight, but what they all have in common is strength by the bucketful and a desire to do well enough at this contest to garner an invitation to a WSMSS Grand Prix event, the gateway to the World's Strongest Man contest.

Grant Higa, Pete Konradt, Brian Shaw, Rob Meulenberg, Jason Kristal, Brian Turner, Marshall White, Carl Foemmel, Matt Parkes, Odd Haugen, Josh Thigpen, Jason Bergmann, David Ostlund, Corey St. Clair, Nick Best, Travis Ortmayer, Brad Dunn, Jim Glassmann, Mark Philippi and Reggie Barton will hit the line for the first four events, after which the field will be cut to the top twelve guys, and they will duke it out for the final four disciplines.