2007 Met-Rx All-American Strongman Challenge
Odd Haugen has just released the official list of competitors for the 2007 MET-Rx All-American Strongman Challenge, which is being held at the FitExpo in Pasadena, California February 16 - 18.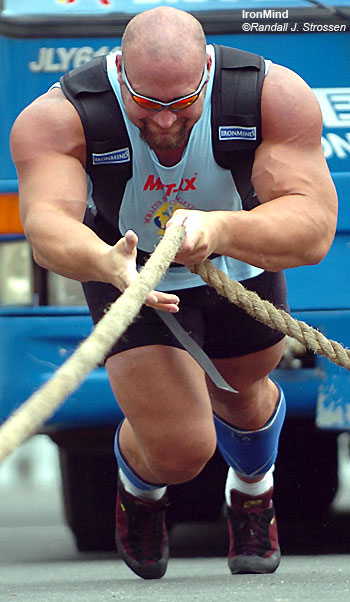 Don Pope finished third in the 2006 World's Strongest Man contest. Come to FitExpo and you can see Don, and a lot of other top strongmen, in person. IronMind® | Randall J. Strossen, Ph.D. photo.

With three competitors north of 40 years old and one on the far side of the half-century mark, we had to ask Odd if he was running the first Masters' strongman contest - Odd, of course, at a mere 57 years old, gives a lot of young guys more than they can handle and he inspires everyone to get out and train harder.

With a contest open to all pros, and with the top six finishers guaranteed an invitation to a World's Strongest Man Super Series qualifier, this could be the first step toward competing in the 2007 World's Strongest Man contest.

Here's the field of competitors: Jason Bergmann, Don Pope, Kevin Nee, David Ostlund, Pete Konradt, Sam McMahon, Brian Shaw, Carl Foemmel, Grant Higa, Ken Brown, Marshall White, Brad Dunn, Odd Haugen, Gerard Benderoth, Karl Gillingham, Josh Thigpen, Corey St. Clair, Mark Philippi, Jim Glassmann, Matt Parkes and Dan Ford.

Scanning the entries, Odd said, "We've got the best of the last decade and the new up-and-comers . . . this truly is a national contest . . . we have competitors from every corner of the country."

The action begins on Friday, February 16, when the FitExpo opens its doors, and after four events, the field will be cut to the top twelve competitors. For full details, please check the FitExpo website.