2006 IFSA World Championships
One hypothesis has it that the 2006 IFSA World Championships will be in Finland in late September.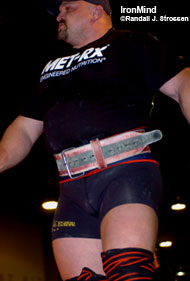 Ukrainian powerhouse Vasyl Virastyuk might not get the ink of Zydrunas Savickas or Mikhail Koklyaev, but make not mistake about him: Virastyuk is a force to be reckoned with in strongman and IFSA's Douglas Edmunds ranks him third, following Savickas and Koklyaev. IronMind® | Randall J. Strossen, Ph.D. photo.

Although it describes itself as "the world governing body of the strongman sport," that doesn't mean IFSA has announced if, when or where its 2006 World Championships will be held, and neither a phone call nor an email to IFSA Managing Director Christian Fennell about this have produced a response. Meanwhile, IFSA founder Douglas Edmunds would not say anything specific, but he did say that an announcement would be made and that's when the matter would be settled. What appears to be the case is that IFSA is still awaiting confirmation of details regarding its proposed Worlds so, quite reasonably, nothing official has yet been released because nothing is certain yet.

With the clock clicking, though, and with the IFSA stable containing at least three very strong strongmen - Zydrunas Savickas, Mikhail Koklyaev, and Vasyl Virastyuk - interest is mounting in just what, if anything, IFSA will unveil.

Although it's all speculation at this point, late September sounds plausible, as IFSA - ever since its relationship with World's Strongest Man was severed - appears to be positioning its top competition directly against the World's Strongest Man contest, unquestionably the best-known strongman contest by a vast margin. As for Finland, that too could be plausible, with that country's deep roots not just in strongman generally, but specifically in the type of strongman events that have become IFSA's calling card: heavy, heavier and heaviest.

Stay tuned.