2006 Arnold Invitational Weightlifting Exhibition
Complementing its weightlifting competition, the 2005 Arnold introduced a new event, an invitational weightlifting exhibition featuring a star-studded delegation from the Chinese Weightlifting Association: coach Chen Wenbin and Olympic gold medalists Shi Zhiyong and Zhang Guozheng.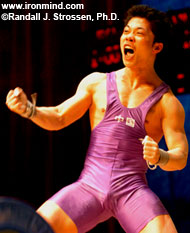 56-kg weightlifter Wu Meijin (China) celebrates his huge 165-kg clean and jerk at the 2004 Asian Weightlifting Championships (Almaty, Kazakhstan). Come see Wu Meijin, along with his teammate Le Maosheng, and their coach Liu Weiguo at the 2006 Arnold. IronMind® | Randall J. Strossen, Ph.D. photo.

Befitting the stature of this delegation from China, its participation in the 2005 Arnold marked the first time weightlifting was featured on the main stage of the expo hall, where this distinguished team generated tremendous excitement.

This tradition is continuing in 2006 as the Arnold and IronMind® are proud to once again welcome a distinguished delegation from the Chinese Weightlifting Association: coach Liu Weiguo and 2004 Olympic silver medalists Wu Meijin and Le Maosheng.

Mark your calendars, make your travel arrangements and plan to be part of the world's largest multi-sport expo, the Arnold: March 3-5 in Columbus, Ohio. For full details, please check the official Arnold web site.