2004 World's Strongest Man
Strongman fans around the world wait each year for the World's Strongest Man show to air and this year's contest, which is about to be shown, should be especially interesting.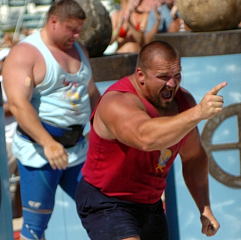 "Watch WSM!" These might not be Vasyl Virastiuk's exact words, but we're confident that they capture the correct sentiment. Check local listings for exact program dates and times. IronMind® | Randall J. Strossen, Ph.D. photo (Paradise Island, Bahamas).

Along with the top professional strongmen in the lineup, format changes in this year's World's Strongest Man contest will be sure to catch your eye, and in addition to the proven classics, strongman event maestro Jamie Reeves unveiled some things this year that will be sure to get your attention.

You've been waiting for this, so go ahead now and enjoy it: World's Strongest Man 2004!