2004 WSM TV Schedule: Reruns Start Monday Morning
At least in the US, we heard that a lot of people were caught by surprise and either missed the initial airing of the 2004 World's Strongest Man contest or just happened to be channel surfing at the right moment and caught it by good fortune.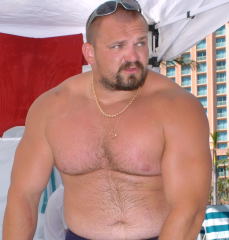 With the first event just finished, Vasyl Virastiuk casts a hungry eye toward the rest of the 2004 World's Strongest Man contest (Paradise Island, Bahamas). IronMind® | Randall J. Strossen, Ph.D. photo.
Don't despair if you missed it the first time around, or if maybe you'd just like to see it again, because NAS vice president Dione Wessels passed along the link with the TV schedule.

Get up early on Monday or set your VCR: Programming begins at 6:00 am Eastern time.