16-Year Old Ian Wilson Clean and Jerks Over 400 lb.
"16 year old Ian Wilson from Berkeley, California became the youngest United States weightlifter to clean and jerk over 400 pounds, 182 kilos, 401.25 pounds to be exact," Jim Schmitz reported to IronMind.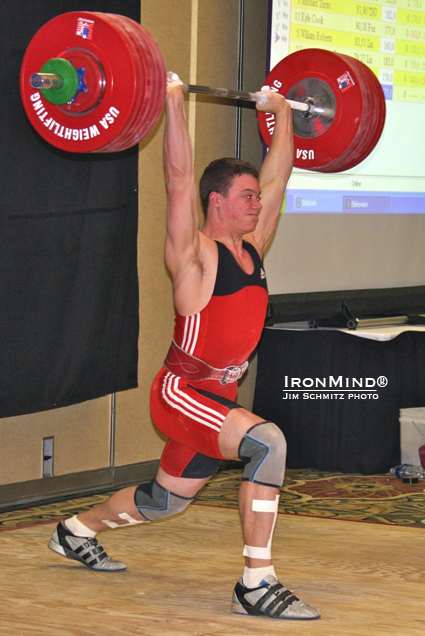 16-year old Ian Wilson extended the Pacific Weightlifting Association tradition of excellence as he became the youngest American to clean and jerk over 400 pounds. IronMind® | Jim Schmitz photo.


Wilson's record was set at the USA Weightlifting (USAW) American Open on Saturday where he had a huge day in a contest Schmitz described as "a wonderfully organized event with a record number of lifters (105 women and113 men)."

Ian Wilson "set School Age National Records (17 years old and younger) in the snatch with 138 and 144 kg, and in the clean and jerk with 176, and 182 kg and total of 320 and 326 kg. An unbelievable performance by this young man who is about 6' 2" tall and weighed 92.55 kg (204 lb.)," Schmitz said.

Incidentally, besides taking an active role in his son's training, Ian's father, Eric, has been a substantial contributor to weightlifting in recent years—donating equipment and underwriting international travel expenses among other things.

For full results, follow this link to the 2010 USAW American Open.

###


Want to comment on this article or just want to talk strength? Join the IronMind Forum!

You can also follow IronMind on Twitter.