105s: Dolega, Lapikov Shine
Santo Domingo - Especially in the these days of supersized contest, sorting out the groups is an imperfect process and once again, a gold and two silver medals came from group B.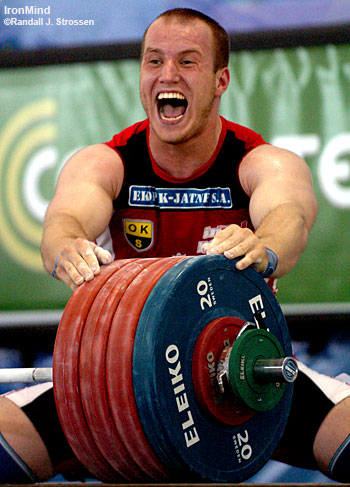 Marcin Dolin celebrates his victory - he missed it twice, but came back to clean and jerk 222 kg to win the 105-kg category at the World Weightlifting Championships today. IronMind® | Randall J. Strossen, Ph.D. photo.

It was drawing close to midnight when the 105-kg B session ended last night, but when it did Dmitry Lapikov (Russia) had reeled three good snatches to end up with an impressive 194, a lift that certainly seemed very worthy of a medal. Coupled with his 220-kg clean and jerk, Lapikov, it appeared, might end up having a major role in the medal ceremony following today's A session. And that's just how things turned out.

World record holder Marcin Dolega (Poland) seemed to be the lifter in the A session capable of overtaking Lapikov in the snatch, but when he missed his opener, 193 kg, things didn't look so rosy, even though he came back to make a nice success with it on his second attempt. Going for broke on his third attempt, he attacked his own world record, calling for 200 kg, but it was too much for him today.

Once the clean and jerks really got underway, Lapikov's mark in the total was starting to look better and better, and finally it came down to only Marcin Dolega and Dmitry Klokov (Russia) having shots at overtaking him. Dolega missed the jerk on 222 and then the jerk, so when he came out for his third attempt, it seemed like an easy-money bet that he'd fail, but he didn't, bumping Lapikov down to silver in the jerk and total. Klokov, who had been a bit of mystery as people had been speculating if he was lifting in A session or B session or whether he was even here. Klokov is a real screamer, literally, and at last year's world championships someone trying to describe him said to this reporter, "you know, the one who looks and yells like a caveman." He had opened with 218, and twice, Klokov called for the 227 he needed and twice he got it to arms' length overhead - his third attempt lookedlike he might hold on, but the jerk came crashing down.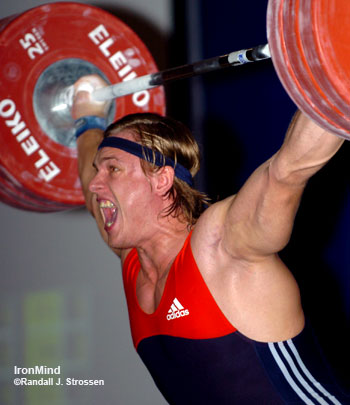 Lifting in sauna-like conditions, Dmitry Lapikov made this gold medal 194-kg snatch look like a no-sweat effort. IronMind® | Randall J. Strossen, Ph.D. photo.