". . . No. 4, No Problem"
Talking about the Viking Power Challenge this weekend, Magnus Samuelsson told IronMind®, "I'm not in bad shape . . . slightly too many exhibitions in May . . . too many hours on the road and too many hamburgers."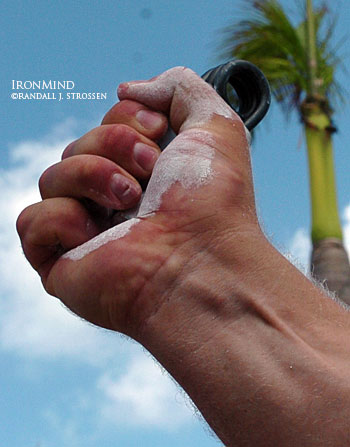 Magnus Samuelsson has a little fun with the No. 4 Captains of Crush® Gripper right after a podium finish at the 2004 World's Strongest Man contest. IronMind® | Randall J. Strossen, Ph.D. photo.
Even if it makes for imperfect training, that's business as usual for the man who might be the world's most in-demand strongman, but from here forward, it's nose to the grindstone in terms of training, with the goal of launching a full tilt run for the 2007 World's Strongest Man title.

"I haven't competed at a high level for about one and a half years," Magnus Samuelsson told IronMind®, so after this weekend's Viking Power Challenge, The Big Swede said he will be looking for one more tune-up contest before the 2007 WSM, "to get all the rust out."

Strongman aside, Magnus Samuelsson is known for having the world's strongest arms, and for years, IronMind® has considered 1998 World's Strongest Man winner Magnus Samuelsson to be a benchmark for world-class grip strength, as his performances on the No. 3 and the No. 4 Captains of Crush® Grippers, have defined the high-water mark for years. Today, when we asked how his grip strength was doing at the moment, Magnus Samuelsson told IronMind®, "I don't want to brag, but I can close the No. 4 no problem."

To paraphrase Dizzy Dean, "It's not bragging if you did it."