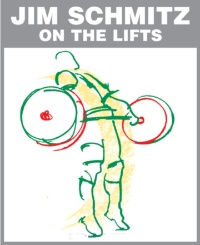 By Jim Schmitz

U.S. Olympic Weightlifting Team Coach 1980, 1988 & 1992
Author of Olympic-style Weightlifting for Beginner & Intermediate Weightlifters Manual and DVD
The Training Log or Workout Book
How many of you keep a training log? I'm quite surprised at those who don't. I didn't used to require my lifters to keep a workout book, which I prefer to call it, because I used to have a master workout that they would follow. I have always kept detailed workout books for my elite lifters, but in the beginning you don't know who will become elite or who will stick it out to get to a high level, so now I require all my lifters to keep and maintain their own books.

A workout book is extremely important for planning, recording, and monitoring your workouts, progress (or lack thereof), objectives, goals, competitions, and anything that pertains to your weightlifting. Workout books become extremely important for keeping track of what works and what doesn't work for you, and they become more valuable the longer you lift as they create a history of your weightlifting career.

From my very first workout on June 27, 1960, I have always kept a workout book. As noted in my first entry, I was 5' 6", weighed 123 pounds, and military pressed, curled, back squatted, and deadlifted 35 pounds for 1 set of 10 reps each. I have boxes full of my workout books and it is fun and very interesting to go back and look at past workouts. I look at some and think, wow! I was in shape and lifted some pretty good weights. I look at others and wonder, what was I thinking? I also have all the workout books for many-time U.S. National champions Ken Clark and Giselle Shepatin, as well as almost all of the workout books of all the top lifters I have ever coached. Many have been misplaced and some of my lifters took their books when they retired or moved away. I do go back and look at Martio Martinez's and Ken Clark's books and see if what worked for them might work for someone I'm now coaching.

A little side story here is there was a time when Mario's training wasn't going as well as he would have liked and he thought he would like to do his own program. He still wanted to train with Ken Clark, John Bergman, Tom HIrtz, and Butch Curry, who were all following my program and coaching, but he wanted to do his own programming. To make a long story short, he would get to the gym before those guys, check out their programs—particularly Ken Clark's—and then train with Ken and John doing the same exercises, but with 10, 15, or 20 kilos more. He just didn't like to see his workouts written down, he thought it limited him.

What should be in your workout book? It depends how detailed you want to be. You don't want to spend more time filling out your workout book than working out. The minimum should be date, bodyweight, exercise, top weight and reps. Then you can get quite elaborate and detailed: day, date, time workout began and ended; bodyweight before and after; stretching; abs; each exercise in the order it was performed, each set, rep, and weight; percentages; intensity; volume; rating each set, rep, and weight; goals and objectives; detailed notes; blood pressure, heart rate; jump and reach; sleep, nutritional supplements; health and injury status; and body measurements. You may just want to record some of those things weekly or even monthly, but I feel each workout should include at least the day, date, time, bodyweight, exercise, sets, reps and weight over 80% and then a plus (+), zero (0), or minus (-).
I know there are computer programs out there that can do all of the above and much more, and iPhone probably has apps for that as well. But I'm a little old-fashioned and recommend lifters use a 6" x 9" spiral-bound notebook and that's what I have several boxes full of. I like this size better because you can pretty much get one workout per page and you won't lose the page or order. Also, 6" x 9" fits in the pockets of many gym bags very nicely, and a 6" x 9" notebook is much easier to carry around than a computer. Oh, and of course, you need a pen or pencil—I always have an extra as that's one item lifters seem to lose or forget.

In recent years I have developed an 8.5" x 11" form that my lifters can use, which fits nicely in three-hole-punch binders. I have forms for 3, 4, 5, or 6 workouts per week on one page. The forms have space for day, date, and bodyweight across the top of each workout and then 4 to 6 rows below that for the exercises and 10 columns across for the weight, sets, and reps. That's it, just the basics, and the forms work pretty well. I do ask my lifters to rate their exercises: plus (+) for good, zero (0) for okay, and minus (-) for not good.

It is very important to record your competitions, bodyweight, warm-ups, and attempts, and you really should write some notes about what happened and why.

Write legibly and take care of your workout book: don't let it get all wrinkled, dirty, or stained from spilled liquids. Have some organization to it so you can find past workouts and peronal records readily. In fact there should be a page or pages for PRs.

With regard to some of those computer workout planners and trackers, I'm not very familiar with them, but all of the criteria I have mentioned here should be included. Remember, you can also record extra information, but you do need to record the basics.

Three very important things to remember are: 1) write down everything that is important to you and your lifting, 2) you don't want to spend more time writing in your workout book or computer than working out, and 3) the dullest pencil is better than the sharpest memory.
                                                   ###

For more information on Olympic-style weightlifting, weight training, lifter profiles, and competition reports, visit our Weightlifting Resource Pages.

Jim Schmitz's gold-medal articles on weightlifting and weight training are regularly featured in MILO: A Journal for Serious Strength Athletes.

Take advantage of what Jim Schmitz, absolutely one of the best American coaches in the sport, can teach you in his Olympic-style Weightlifting for the Beginner & Intermediate Weightlifters Manual and DVD.