Sultan Rakhmanovs (SR's), aka "Sexy Squats"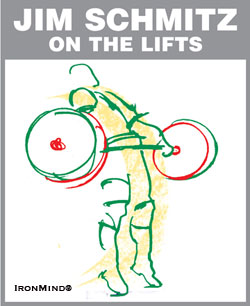 By Jim Schmitz

U.S. Olympic Weightlifting Team Coach 1980, 1988 & 1992
Author of Olympic-style Weightlifting for Beginner & Intermediate Weightlifters Manual and DVD


Sultan Rakhmanovs (SR's), aka "Sexy Squats"

Here's another exercise I named after the man I first saw perform the lift, 1979 world champion and 1980 Olympic champion Sultan Rakhmanov. Sultan was a very muscular superheavyweight at 140 kg. I saw him do the following exercise in the training hall at the 1979 World Championships in Salonika (Thessaloniki), Greece. He won in 1979 with a snatch of 192.5 and clean and jerk of 237.5, for a total of 430 kg. He won the 1980 Moscow Olympics with 195 and 245 for 440 kg.
The exercise is a half good morning, half squat combo, scooping or rotating the hips forward at the finish. With the bar resting behind your head on your traps, you bend over from the hips, back flat or arched, with your knees slightly bent and your head up—you don't go down to a full good morning, just to about 45 degrees. Then bending your knees you go into a quarter to half squat. Now stand up, making it a point to bring your hips and knees forward.  The hips simulate a scooping motion. As with anything, it takes practice to get it just right. Remember, it's not a full good morning and it's not a full back squat. It should be done in a fluid motion, no stopping, no hitching, but smooth. Your grip should be the same as your clean and jerk, or maybe slightly wider. Your feet stay flat-footed throughout.
Because of the hip-scooping action, some people refer to this exercise as the "sexy squats." Summer Krasinski, who was coached by Butch Curry and trained at the Sports Palace, was the one who came up with the "sexy squats" name. My women lifters seem to like that name for some reason, as well as the exercise.
This exercise really works your low back, glutes, and hamstrings. I recommend 3 sets of 10 with a light weight, either before or after your workout. I also recommend this exercise for rehabilitation and strengthening the low back. I have been having my lifters do this exercise ever since I saw Sultan do it, and they have had great results.
I saw Sultan Rakhmanov do this exercise with 200 kg for 5 reps as if it were nothing. I also saw him put 25-kg plates on the bar with one hand as if they were 5 kg. He was one super-strong superheavyweight, and one of the nicest and friendliest people in all of weightlifting—a super champion—and it's a shame he died young at 52 years of age. However, in my gym and whenever I do a coaching course, I teach this exercise and tell them the Sultan Rakhmanov story; so, Sultan is remembered by having this exercise named after him, Sultan Rakhmanovs, or SR's for short.
                                          ###

For more information on Olympic-style weightlifting, weight training, lifter profiles, and competition reports, visit our Weightlifting Resource Pages.

Jim Schmitz's gold-medal articles on weightlifting and weight training are regularly featured in MILO: A Journal for Serious Strength Athletes.

Take advantage of what Jim Schmitz, absolutely one of the best American coaches in the sport, can teach you in his Olympic-style Weightlifting for the Beginner & Intermediate Weightlifters Manual and DVD.