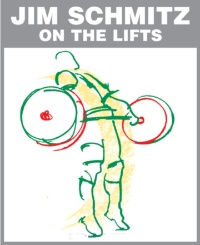 By Jim Schmitz

U.S. Olympic Weightlifting Team Coach 1980, 1988 & 1992
Author of Olympic-style Weightlifting for Beginner & Intermediate Weightlifters Manual and DVD
Six for Six, Continued

Last month's "Schmitz on the Lifts" was about great six-for-six performances at the Olympics and the Worlds. I guess several international coaches and athletes read it and wanted to do better than the ones I mentioned and get their names and accomplishments recognized and written up by me. At the recent Beijing Olympics there were five six-for-six performances by women and five by the men who placed in the top three. There were another four women and two men who also went six for six. That's nine perfect days for the women and seven for the men. This seemed like a lot of perfect lifting performances to me so I looked up how many perfect days there were at previous Olympics.

At the 2004 Athens Olympics, there were no six-for-sixes by the women, but two five-for-fives as the lifters passed on their third attempts since they won on their second attempts. In the 2000 Sydney Olympics, there were three six-for-sixes. One was the spectacular performance by Mexico's Soraya Jimenez, who needed every lift in order to win the gold in 58's. The other was by USA's Cheryl Haworth, who needed every lift to secure her bronze medal. The third six-for-six was done by Spain's Josefa Perez, which placed her seventh.

The men also had no six-for-six performances in 2004 and only one five-for-five by Turkey's Taner Sagir, who also didn't need his third attempt, winning on his second clean and jerk. In 2000, the men produced four six-for-six performances—the most prominent was Gabalan Boevski's, which he needed in order to win the 69's. In 1996, six six-for-six performances happened, the most spectacular one done by Pirros Dimas. In 1992, the last Olympics for which I could find lift-for-lift results, there were three six-for-sixes, two very spectacular ones necessary for the gold done by Akakios Kakiasvilis in the 90's and Ronny Weller in the 110's.

So, you can see that China's 2008 Olympics set a record for the most successful performances without a miss. The Chinese women were just out of this world, making 23 consecutive attempts before Cao Lei missed her final clean and jerk attempt with 159. The Chinese women set 15 Olympic records and 5 world records, beating their competitors by an average of 19.25 kg. Of course, the bulk of the Chinese success was done by Chunhong Liu, who set the 5 world records and beat her nearest competitor by 31 kg and outlifted every woman, except for the Korean +75, Miran Jang. Miran Jang turned in one of the greatest athletic performances of the 2008 Olympics: besides going six for six, she set 7 Olympic records and 5 world records. She beat the silver medalist by 49 kg. She started her snatches 6 kg above the second-place finisher and started her clean and jerks 22 kg above second place. Jang didn't just come to Beijing to win, she came to "kick ass" and she did. She also had gone six for six in winning the 2007 Worlds.

Four out of seven first-place finishers went six for six, three Chinese and one Korean, pretty incredible—a record for sure. Other notable six-for-sixes were USA's Melanie Roach (53 kg), who did 79, 81, 83, 105, 108, and 110 for 193 kg, and an American record total for sixth place. Natalya Davydova of Ukraine and Columbia's Leidy Solis made all their attempts for third and fourth respectively in the 69's. Iryna Kulesha of Belarus and Damaris Aguirre of Mexico made them all in the 75-kg class for fourth and sixth, respectively.

The men had only one six-for-six performance by a gold medalist and that was pretty spectacular, some may argue better than Miran Jang's. That was Andei Aramnau of Belarus—at just 20 years old he set 5 junior world records, 5 senior world records, and 5 Olympic records. He beat Russia's Dmitriy Klokov by 13 kg, but Dmitry also had a six-for-six day and set a personal record total. Russia had two other lifters go six for six—94-kg Khadzhimurat Akkaev made them all for third place while lifting in the "B" session. Evgeny Chigishev did 200, 205, 210, 240, 247, and 250 for 460 kg, a personal record total and seemingly the gold medal—until Matthias Steiner of Germany clean and jerked 258, a PR clean and jerk by 8 kg and a total PR by 10 kg. Tough luck for Chigishev, great lift for "super" Steiner! Columbia's Diego Salazar also had a no-miss day for a PR-tying total and a strong second place in the 62's.

The other six-for-sixes by men were done by Ukraine's potential super of the future, Ihor Shymechko. Ihor is 6"-4" (1.9 m), 130 kg and just 22 years old, and he looked great while placing fifth and breaking his PR total by 19 kg. The final no-miss day was turned in by Begium's Tom Goegebuer, who finished thirteenth in the 56-kg class. Goegehuer didn't set any personal records, but he epitomizes the Olympic ideal of just doing the best you can.

So, coaches and athletes—I know it's unrealistic to always have six-for-six days, but the really good lifters do have them from time to time, and as the above and my previous article show, the champions have them when it counts the most. As the famous American football coach Vince Lombardi said, "Pursue perfection and you might attain excellence!"
                                                   ###

For more information on Olympic-style weightlifting, weight training, lifter profiles, and competition reports, visit our Weightlifting Resource Pages.

Jim Schmitz's gold-medal articles on weightlifting and weight training are regularly featured in MILO: A Journal for Serious Strength Athletes.

Take advantage of what Jim Schmitz, absolutely one of the best American coaches in the sport, can teach you in his Olympic-style Weightlifting for the Beginner & Intermediate Weightlifters Manual and DVD.