John Brookfield's Grip Tips



By John Brookfield

Author of Mastery of Hand Strength, Revised Edition, Training with
Cables for Strength, The Grip Master's Manual, and Real-World Conditioning


Roll and Drag

In this month's Grip Tip I will share with you a whole new way of doing a great old exercise. It will shock the muscles in a different way and add new results to your lower arm strength. The old exercise that we will use is the classic wrist roller, which has been around in one form or another throughout the history of physical culture. It has been used by trainees wishing to enhance their lower-arm strength as well as old-time bodybuilders wishing to have larger, more muscular forearms. The object, of course, is to roll up a weight attached to a rope or chain around a bar or stick. The trainee lifts the weight off the ground and rolls the rope around the stick until the weight is all the way up to the hands. This technique is performed in a smooth, steady pull.

In this tip we are going to add a new turn to this exercise, making it more ballistic. This method will shock your forearms and wrists, creating more strength and size in the lower arms. We are going to do this in a very simple way and to do so, you will want to use a much longer rope and you may also want to use a lot heavier weight. This technique is almost like reeling in a fish.

To start, unroll the rope all the way with the weight lying flat on the ground. Roll up the rope as the weight drags on the ground. This technique will feel much different from the traditional method. As the weight drags across the ground, you will feel a different type of stress being put on the lower arms, more like the feel of real life activities.
You will have fun seeing how much weight you can drag in this manner. Pay special attention to not keeping your entire body upright and not allowing it to lean backward. Use only your lower arms to drag the weight and roll up the rope. In addition to rolling up more weight, you can also drag and roll up the rope with one hand. The Roll and Drag will be a great challenge to your lower arms.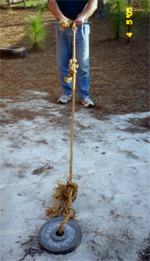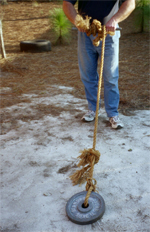 ###

Editor's note:  John Brookfield's books Mastery of Hand Strength, Revised Edition, The Grip Master's Manual, Training with Cables for Strength, and Real-World Conditioning combine John's limitless creativity with his friendly, downhome manner. John's articles are also regularly featured in MILO: A Journal for Serious Strength Athletes. 

To learn more about IronMind's world-renowned Captains of Crush® Grippers and other CoC 2 Grip Tools, please visit the IronMind on-line store.