Jumping and Weightlifting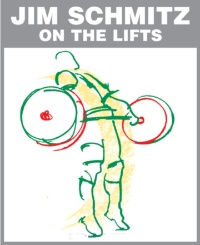 By Jim Schmitz

U.S. Olympic Weightlifting Team Coach 1980, 1988 & 1992
Author of Olympic-style Weightlifting for Beginner & Intermediate Weightlifters Manual and DVD
Jumping and Weightlifting

Does weightlifting improve jumping? Does jumping improve weightlifting? Do weightlifters make good jumpers? Do jumpers make good weightlifters? What do you think? I'll tell you about some weightlifters who could certainly jump, and they did lift some really big weights.

When Ken Patera (the first American to clean and press and clean and jerk 500 lb. (227 kg) was training with me in 1972, I told him that I had read that Paul Anderson (1956 Olympic Champion and considered the strongest man that ever lived) could do a standing long jump of 10' (3 m). Ken said he was sure he could exceed that and told me to get a tape measure. I did and we marked his starting point. With a slight dip he jumped, and we measured 10'-6" (3.2 m). He said, "Let me try that again," so he did and this time we measured 11' (3.35 m)! Ken said he was sure he could go further, but the landing was hurting his knees since he weighed 335 lb. (152 kg) at the time.

The 1978 World Weightlifting Championships were held in Gettysburg, Pennsylvania, USA and the Soviet team was training at the York Barbell Gym, in York "Muscle Town USA," of course. The gym had three 10' x 10' (3 m x 3 m) platforms that were raised about 4" (10 cm) off the concrete floor and were 10' (3 m) apart. David Rigert (1976 90-kg Olympic champion) would do standing jumps from platform to platform and back several times as part of his workout, very easy, casually, and just sort of playing around.

At the 1977 Record Makers in the Aladdin Hotel in Las Vegas, Nevada, USA during a training session, Yuri Vardanian (1977 75-kg world champion and destined for greatness) was doing some standing high jumps. A coach held a broom handle at about Yuri's waist height and Yuri jumped over it from a standing position. The coach kept raising the handle and Yuri kept jumping over it, right up to the height of his rib cage!

Another lifter who could jump was Tom Stock (1978, 1979, and 1980 U.S. champion super heavyweight), who could do a vertical jump and reach of 39.3" (1 m) at a bodyweight of 303 lb. (137.5 kg) and height of 6'-1" (1.85 m). Mark Henry (1992 and 1996 U.S. super heavyweight Olympian) could dunk a basketball at a bodyweight of around 374 lb. (170 kg) and a height of 6'-2" (1.87 m). Shane Hamman (U.S. super heavyweight record holder and 2000 and 2004 Olympian) was also reported to be able to dunk a basketball at a bodyweight of 352 lb. (160 kg) and at a height of 5'- 9" (1.75 m).

There are many other examples of weightlifters and their jumping ability, but this should be enough to make my point, which is that weightlifting improves jumping and if you are a pretty good jumper, you might make a pretty good weightlifter.
                                                   ###

For more information on Olympic-style weightlifting, weight training, lifter profiles, and competition reports, visit our Weightlifting Resource Pages.

Jim Schmitz's gold-medal articles on weightlifting and weight training are regularly featured in MILO: A Journal for Serious Strength Athletes.

Take advantage of what Jim Schmitz, absolutely one of the best American coaches in the sport, can teach you in his Olympic-style Weightlifting for the Beginner & Intermediate Weightlifters Manual and DVD.