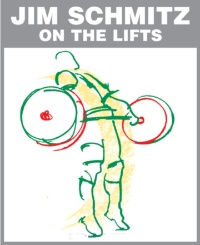 By Jim Schmitz

U.S. Olympic Weightlifting Team Coach 1980, 1988 & 1992
Author of Olympic-style Weightlifting for Beginner & Intermediate Weightlifters Manual and DVD
How Often to Compete

I remember being told by someone, I can't remember whom at this time, that when Bob Hoffman, founder of York Barbell Company and Strength and Health magazine, met Al Feuerbach, world record holder in the shot put and also U.S. national weightlifting champion, at the Melrose Games in New York City, Bob said, "I'm just amazed how far a weightlifter can throw the shot." Al put the shot 71'-7" for the world record one spring Saturday in 1973 at a meet in San Jose, California. Then that evening he lifted in the Golden West Open in Belmont, just about 25 miles north of San Jose, and snatched 147.5 and clean and jerked 185 at a bodyweight of 111 for PRs. Quite an impressive day.

Al Feuerbach had 10 incredible days in the spring of 1974. In 1974 Al competed at a major international track and field invitational championships in Moscow, Russia (the Soviet Union at that time), on a Friday, which he won with a throw of around 70'. He then came back to Eugene, Oregon, and won the U.S. National Track and Field Championships the following Friday, again with another throw in the 70' range. Then he flew all day Saturday to York, Pennsylvania, and won the U.S. National Weightlifting Championships in the 110-kilo class, with lifts of 155 and 190. That wasn't just impressive; I think it is one of the greatest, most spectacular strength, power, and athletic accomplishments of all time.

On May 2, 1987, Thanh Nguyen totaled 220 at the Nationals in the 60-k class and then was selected for the European under-23-years-old tour and competed in four competitions in four European countries. In Sweden on July 3, he totaled 227.5; four days later, on July 7, he totaled 225 in Germany; five days later he again totaled 225 in France; and then another five days passed and he totaled 235 in Great Britain on July 17. To top it off, he came home to the USA, and on July 24, totaled 232.5 at the Olympic Festival in Raleigh, North Carolina. That's five competitions in five different countries in 21 days, registering a 15-kg improvement in his total, from the May 2nd Nationals where he went six for six setting personal records. He also went six for six on July 3 against Sweden, setting personal records, and again on July 17, he went six for six and broke all his personal records again. Thanh made 25 out of 30 attempts and set 12 personal records during this incredible 21 days. Thanh would go on to be a many times U.S. national champion, and World Team, Pan Am Games and Olympic Games competitor.

Another lifter on this under-23 tour who also did quite well was Paul Fleschler. Paul is now USA's men's coach at the Olympic Training Center in Colorado Springs, Colorado; he too was a national champion and an Olympian.

Now I realize that the above examples are quite extraordinary, but it goes to show you it can be done. Young up-and-coming lifters, especially, can compete more often than veteran lifters because they usually don't know their potential or ability to train and compete yet. The only way to know how often you can compete is to do it and find out. And each competition doesn't have to be your absolute maximum; you can use it as a workout and an opportunity to increase your experience competing in different environments and situations. You'll know if you are competing too often if you are not improving and are tired and sore a lot.

I would say a beginner can compete 6 to 10 times in a year and intermediate and advanced lifters can compete 4 to 6 times a year. A beginner can go 100% at each competition, but the more experienced lifters might only want to go absolutely 100% two or maybe three times within a year and use other competitions as workouts and for experience.

                                                   ###

For more information on Olympic-style weightlifting, weight training, lifter profiles, and competition reports, visit our Weightlifting Resource Pages.

Jim Schmitz's gold-medal articles on weightlifting and weight training are regularly featured in MILO: A Journal for Serious Strength Athletes.

Take advantage of what Jim Schmitz, absolutely one of the best American coaches in the sport, can teach you in his Olympic-style Weightlifting for the Beginner & Intermediate Weightlifters Manual and DVD.