John Brookfield's Grip Tips



By John Brookfield

Author of Mastery of Hand Strength, Revised Edition, Training with
Cables for Strength, The Grip Master's Manual, and Real-World Conditioning


Front Hammer Lever

Here is a special Grip Tip that will quickly develop your lower arms by training them at a different angle than many of you are used to. This exercise is a must for anyone wanting to enhance his lower arm strength, and a very special grip tip for arm wrestlers trying to develop strength for pulling back pressure. You will learn to love this exercise because of the results it will produce.

Start by getting a six-pound sledge hammer with a handle of regular length. You can do this exercise standing up, or you can do it with your elbows on a bench. Start by grasping the end of the sledge hammer, holding it vertically with the head toward the ground. From here, lever the hammer to the vertical position by cocking or flexing your wrist back toward your face. Be sure to use only your wrist to lever the hammer. Do not use your arm. In fact, take great care not to even move your arm at all throughout the exercise; simply lever the hammer from vertical to horizontal moving nothing but your wrist.

Lever the hammer back and forth as many times as you can. You may also hold the hammer in the horizontal position as long as you can, to develop great holding strength, useful on the arm wrestling table as well as in many other activities.

If holding the six-pound hammer by the end of the handle is too heavy, move your grip closer to the head of the hammer until you find the right spot for your own strength level. When the six-pound hammer becomes too light, you can move to an eight-pound hammer if you like. You can also use both hands at the same time to lever the hammers if you like.
The front hammer lever is great for anyone who uses wrist action in his or her chosen sport. Whether arm wrestling, steel bending, stone lifting, or racquet sports, this exercise will give you an added edge.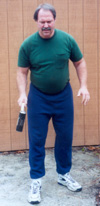 ###

Editor's note:  John Brookfield's books Mastery of Hand Strength, Revised Edition, The Grip Master's Manual, Training with Cables for Strength, and Real-World Conditioning combine John's limitless creativity with his friendly, downhome manner. John's articles are also regularly featured in MILO: A Journal for Serious Strength Athletes. 

To learn more about IronMind's world-renowned Captains of Crush® Grippers and other CoC 2 Grip Tools, please visit the IronMind on-line store.