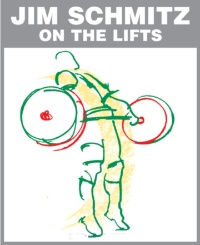 By Jim Schmitz

U.S. Olympic Weightlifting Team Coach 1980, 1988 & 1992
Author of Olympic-style Weightlifting for Beginner & Intermediate Weightlifters Manual and DVD

Buckle Up
MILO readers all know what "no-no-no" means: no belt, no knee wraps or wrist wraps, no spotters. Well, I agree that is pretty impressive to lift big weights without a belt and knee and wrist wraps. However, I want you to know it is not unmanly to lift wearing a belt. Many champions wear belts, especially for the clean and jerk and squats. Two great champions who didn't wear belts are Nicu Vlad of Romania and Stephan Botev of Bulgaria. I saw them both miss world record jerk attempts after strong cleans, and I've always wondered if with the support and stability that a belt gives, would they have made the lift. I'm sure they don't feel that way, but I wonder.
I'm not saying these two great weightlifters may have made a mistake by not wearing a lifting belt. I'm just saying don't be hesitant about wearing a belt. If it helps your back feel good you will then lift well. Whether the belt helps you physiologically or psychologically, it doesn't matter, as long as you feel it helps you.

I still like the leather belts over the cloth material with a Velcro® fastener. A leather belt will conform to your body after many workouts and when it does, it gives even better support, stability, and security. Some lifters complain that the buckle gets in the way and they hit it with the bar on the pull. You could have a belt specially made with the buckle slightly off to the side. I've seen belts like this at the worlds and Olympics; I think the Bulgarians have belts like that.

So, buckle up if it makes you feel good and lift well and maybe you will be a "yes-yes-yes" in weightlifting success.

                                                   ###

For more information on Olympic-style weightlifting, weight training, lifter profiles, and competition reports, visit our Weightlifting Resource Pages.

Jim Schmitz's gold-medal articles on weightlifting and weight training are regularly featured in MILO: A Journal for Serious Strength Athletes.

Take advantage of what Jim Schmitz, absolutely one of the best American coaches in the sport, can teach you in his Olympic-style Weightlifting for the Beginner & Intermediate Weightlifters Manual and DVD.