Sal Sabatino Certifies on the Captains of Crush No. 3 Gripper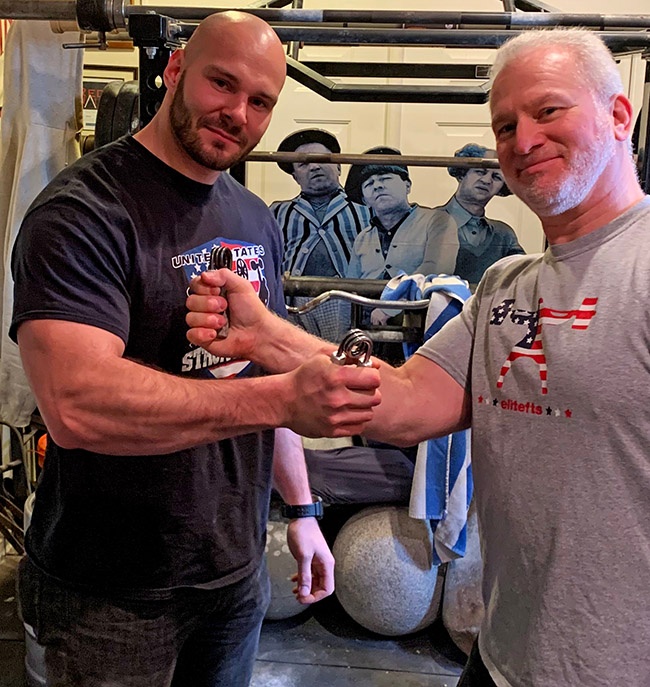 "I am kind of a genetic freak for strongman/grip training," said Sal Sabatino, who has just been certified on the Captains of Crush No. 3 gripper, mentioning his "size 18 shoes and very large hands."

Training with Captains of Crush grippers for about 6 years, Sal said he does "reps and negatives. I am a garage door installer, so I work with my hands daily. I compete in strongman and regularly train grip and forearms.

"I am 25 years old, 6'3", 245 lb. and live on Long Island, New York. I have been using CoC [Captains of Crush] grippers for about 6 years now. The first gripper I bought was a No. 2 and I was able to close it multiple times on my first try with both hands. The No. 3 then took me about 3 years to finally close.

"I started competing in strongman about a year ago and have always been interested in grip-related strength. I am currently working on bending the Red Nail more consistently (only bent twice) and eventually crushing the CoC No. 3.5.

"Meeting with my judge Steve was an absolute honor and privilege to lift with him in his garage. Looking forward to what the future brings in grip sport and strongman," said Sal.

Saturday, referee Steve Weiner CoC3 '00, Red Nail '04 told IronMind, "Sal Sabatino successfully closed the Ironmind #3 gripper this morning! He was an absolute gentleman and what was really cool is that his Dad came with him to watch him succeed.  He is a determined young man and it was a pleasure to witness him dominate that gripper."

Congratulations, Sal, and many thanks Steve—it's official: Official Captains of Crush No. 3 Certification List.

                                                       ###



You can also follow IronMind on Twitter, Instagram and on Facebook.                        



Want to talk grip, strongman, weightlifting . . . everything strength? Visit the IronMind Forum.