Richard Siebels Certifies on the IronMind Red Nail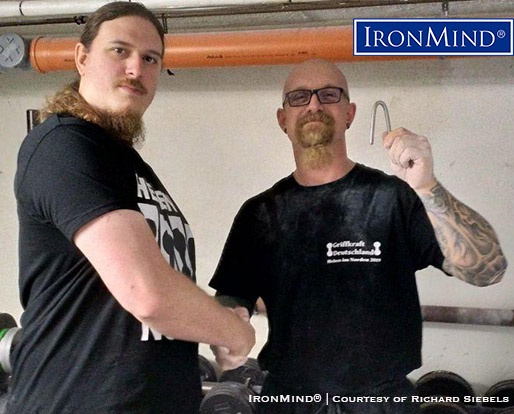 It started off as rehab and that evolved into strength training and now Richard Siebels has been certified on the IronMind Red Nail—a signature short steel bend.

"Working for many years on the assembly line at Volkswagen I got lots of wrist and elbow pains. Instead of eating pain killers like most people would do, I learned about IronMind's Expand-Your-Hands bands, grippers and wrist exercises. The pains disappeared and the strength came.

"I bought more and more grip equipment and started to upload some videos on YouTube. At some point Marco Buhl, CoC3 '15 [I] came across and [he] asked me if i would be interested in competing in armlifting. In my first grip meet (May 2016), I tore my biceps and was really disappointed, but my buddy Marco told me to keep going and so i recovered and rebuilt.

"Year after year I became stronger and learned more about this sport, competing on many events. In 2018 I started to promote my own event, the Ostfriesland Grip Challenge in my hometown which is in the northwest of Germany on the North Sea coast. Attracted by my YouTube channel East Frisian Grip Garage, soon more people from my region showed up and the community grew larger and larger. Now I hold several German arm lifting records and started steel bending 6th of July 2019, only 99 days later I bent my first Red Nail in 22 seconds down to 39mm easily.

"After giving steel bending a short try in 2017 I stopped it because it downgraded my bench press somehow. Living a healthier lifestyle, I started a very strict diet and swim training when I lost 34.7kg of bodyweight in just 240 days. Done with powerlifting, I focused totally on armlifting and discovered steel bending again when my buddies Martin Kotte (Red Nail, '05) and Carl-August Mertz (Red Nail '12, CoC3 '15, CTD '16) motivated me to give it a try again in a meeting we all had.

"Four years into grip sport my weakness caused from factory work turned into a passion to become stronger; together with a crew of good friends we all share knowledge and organize or own meets. I never thought that rehab work could turn into bending steel with my own hands. How cool is that? A big thank you to the entire German grip community and IronMind for their great equipment—it all starts with your first gripper.

Name : Richard Siebels
Born : 11.06.1981
Height : 191cm
Weight : 99kg
Hometown : Norden in Germany
Work : Factory work at Volkswagen

My best lifts on IronMind equipment:
Apollon's Axle 152.5kg
Blockbuster 32.07kg
Stacker 17.04kg
Rolling Thunder 93.24kg (old model)
Little Bighorn 87.78kg
Hub Lift 37.3kg
CoC No. 3.5 Silver Bullet 20.5 Sec.
CoC No. 3 Silver Bullet 44.35 Sec. (German Record)"

Congratulations, Richard—you have certified on the Red Nail and your name added to the Red Nail Roster—and many thanks to Simon Mahalsky (CoC3 '10) for refereeing Richard Siebel's attempt to bend an IronMind Red Nail under official condition.
                                                                           ###



You can also follow IronMind on Twitter, Instagram and on Facebook.                
Want to talk grip, strongman, weightlifting . . . everything strength? Visit the IronMind Forum.