IHGF Chilean Debut: Sean Burns Takes the Title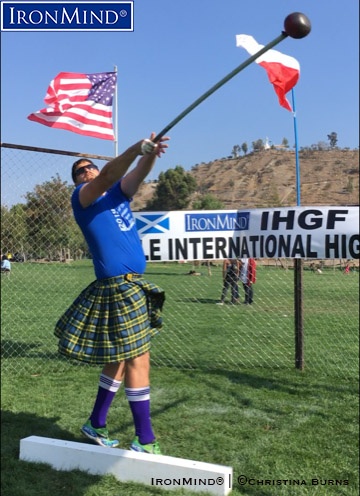 The IHGF hosted its inaugural Highland Games in Chile, continuing its efforts to bring the Highland Games to more venues worldwide, and Sean Burns (USA) captured the title.

Sean Burns Wins 2019 IHGF Chilean Highland Games Championships
by Francis Brebner
President, International Highland Games Federation (IHGF)

The 2019 IHGF Chilean Highland Games were staged in Santiago, Chile, this year held in a new games' location and another great success. The games were attended by officials of San Bernardo, and municipal administrator Felipe Quintanilla Santiago officially opened the games. Three pipe bands played throughout the day, creating a great atmosphere. Eighteen athletes from all over Chile as well as from Argentina, Uruguay, and the USA took part. In the A group Sean Burns made a clean sweep of all the events to take the IHGF Chilean Open International Highland games title.

The A group consisted of Sean Burns and Justin Moore and Chilean athletes Marcelo Aguilar, Dahian Siebald, Christopher Vega, Daniel Gonzalez, Abraham Gonzalez, Marko Reyes, Christopher Caro, and Joaquin Ballivian.

The first event, the 16-lb. hammer, was won by Burns with a throw of 113' 6". Second place was Moore at 85' and third Siebald at 75' 1". Burns went on to take the victory in the 22-lb. hammer with a throw of 91' 9". Moore second with 69' 2", with Siebald third at 51' 5".

In the 22-lb. Braemar stone, Burns won comfortably with a series of throws all over 35' with his best being 36' 7", followed by Moore at 28' 8". As was becoming a pattern, third place was Siebald at 25' 1". Burns notched up another victory in the 16-lb. open stone with a putt of 46' 9". Second place was a tight tussle between Moore and Siebald, with Moore edging ahead with a putt of 34' 5" to Siebald's 33' 4".

In the 56-lb. weight for distance, Burns pulled out a best of  at 29' 5" for another win; Moore followed with 24' 6", with Siebald at 16' 6". Burns outdistanced the group in the 28-lb. weight for distance at 59' 5". Moore took second at 43' 1', with Dahian Siebald in third at 29' 8".

In the 56-lb. weight over bar, Burns topped out at 15' for the win with Moore in second at 13'. Burns won the 16-lb. sheaf over bar at a height of 24', with Moore trailing at 18'. The final event with the caber, which was 17' in length and 125 lb., was won by Burns with a 12:30 toss. Siebald took second on his final attempt, pulling off 2:30.

Overall places
1. Sean Burns
2.  Justin Moore
3. Dahian Siebald

In the Confined Chilean Highland Games Championships, Siebald placed first overall, Vega second and Reyes third.

In the men's master class, three athletes made up the group with Ted Van Vleck in the over 40's and Dale Green and Doug Berry in the over 50's.

In the Braemar stone, Van Vleck was on good form, producing a best of 29' 8" for the win, with Berry close behind at 27' 9" and Green in third at 22' 9". Berry had a good series of throws in the 28-lb. weight for distance, with his best being 46' 3" for the win over second-place Van Vleck at 44' 3" and third-place Green at 40' 4".

In the 22-lb. heavy hammer Van Vleck showed great technique, unleashing a best of 75' 2" to triumph over Berry's 68' 6". Green was third at 58' 4". In the 42-lb. weight over bar Van Vleck and Berry went head to head with Van Vleck clearing 16' to come out on top once again. Berry settled for second place with 15' and Green was third at 13'.

Van Vleck added another win in the 16-lb. open stone with a putt of 37' 4". Berry lagged at 35' 1" for second, with Green a distant third at 24' 9".

Things heated up in the 42-lb. weight for distance, with Van Vleck marginally taking the win with a throw of 32'. Inches separated Green and Berry, with Green second at 31'6" and Berry third at 31' 3". In the 16-lb. hammer Van Vleck pulled off the win with a throw of 92' 5", to Berry's 88' and Green's 82' 9".

Spectators got behind Van Vleck in the 16-lb. sheaf over bar as he reached a height of 27' for first. Berry did 24' and Green 18'. The master athletes opted for the biggest caber, which was 17' and 125 lb. Berry was the only athlete to turn the caber, slamming it to 12:30. Green was second with 85 degrees and Van Vleck third with 55 degrees.

Overall places
1. Ted Van Vleck
2. Doug Berry
3. Dale Green

In the women's division, Christina Burns and Michelle Crownhart went head to head, with Burns setting all new field records with a great all-round performance. Crownhart also set a field record for her age group, master's 60-plus, highlighting the 16-lb. hammer by throwing it a distance of 50' 5", mere inches off the world record.

The IHGF would like to thank Enrique Araya Gonzalez, Eduardo Andres Cristi, and Mauricio Vivallo for their hard work in putting together this major international event and looking after all the athletes during their stay in Chile. The IHGF looks forward to returning with a larger team in 2020 and working with Club Highland Games Chile to grow traditional Highland games throughout Chile.

The next events on the circuit will be the Great Plains Renaissance Festival and Highland Games in Wichita and the  Las Vegas Highland Games this coming weekend, April 13–14, both of which are IHGF All-American Highland Games qualifying series for men and women in the A group divisions.

                                                         ###

You can also follow IronMind on Twitter, Instagram and on Facebook.                       

Want to talk grip, strongman, weightlifting . . . everything strength? Visit the IronMind Forum.