IHGF All-American Highland Games Finals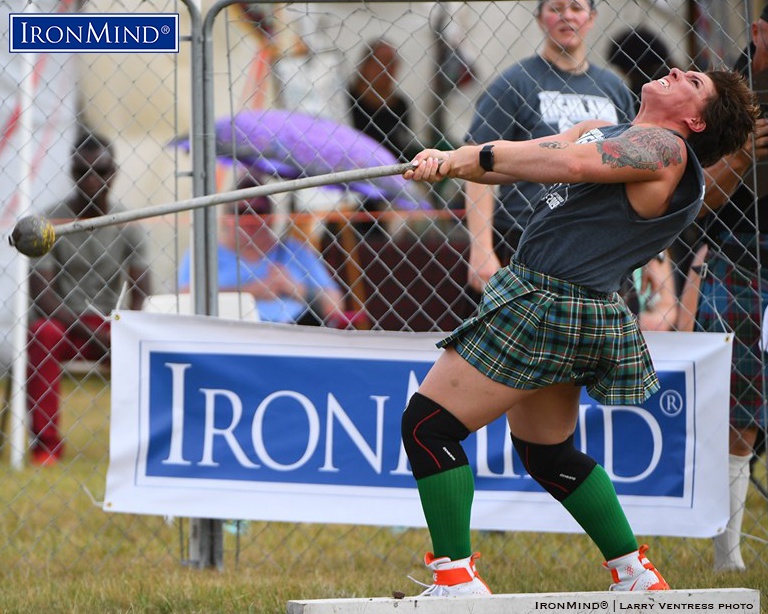 After a 10-games run-up, the finals of the IHGF All-American Highland Games were hosted by the Great Plains Renaissance Festival (Wichita, Kansas).



2019 Great Plains Renaissance Festival: After 10 Rounds in the All-American Highland Games Qualifying Series, It's Finally the Finals
by Francis Brebner
President, International Highland Games Federation (IHGF)

This year's finals of the IHGF All-American Highland Games men's and women's qualifying series, held over ten qualifying games across America, was a huge success. One men's and one women's athlete from each of the qualifying games met in the finals hosted by the Great Plains Renaissance Festival in Wichita, Kansas, with the title holder in the men's A group earning a place at the 2020 IHGF Amateur World Highland Games Championships in Fefor, Norway and the winner of the women's A group division receiving a scholarship of $1,000.

Men's Finals
This year's men's finals of the IHGF All-American Highland Games Championships featured seven athletes: Sean Burns, Eddie Johnson, Kyle McKelvey, John Van Beuren, Chad Thompson, Jeremiah Giambartolomei, and Ryan Huddleston. One of the best to date, the championships created an electric atmosphere from start to finish, with athletes battling in every event to a climactic finish, all under perfect skies.

A new ground record highlighted the 22-lb. Braemar stone as McKelvey and Van Beuren went all out, with Van Beuren overtaking McKelvey in the final round with 45' 3", breaking the old ground record of 43' 6". In a close second and also surpassing the ground record, McKelvey did 44' 10", followed by Burns, with a very respectable putt of 39' 8".

Again dueling with McKelvey in the 16-lb. open stone, Van Beuren nailed a class putt of 55' 4" in the final round. Second with a noble putt was McKelvey at 52' 11", and third Burns at 48' 9".

The 56-lb. weight for distance changed hands several times in a tight tussle. McKelvey produced the winning throw at 38' 10", with Thompson at 37' 2", and Van Beuren at 35' 5".

With the lead changing hands every round in the 28-lb. weight for distance, Van Beuren notched the victory with a distance of 76' 4". Just inches behind were McKelvey and Burns, who tied at 75' 8".

McKelvey went all out in the 22-lb. heavy hammer from the very first round to take the lead and the win with a 103' 8" effort. Second was a close skirmish with Johnson pulling in a best of 99' 11" ahead of Van Beuren at 99' 6".

In the 16-lb. light hammer, Johnson turned up the heat on McKelvey, but in the end McKelvey grabbed another victory with a throw of 128' 1" to Johnson's 125' 10". Burns took third at 119' 11".  

With two scoring events to go, McKelvey had a 3-point advantage over Van Beuren.

The caber, at 19' 6" and 120 lb., was exciting as McKelvey, after trailing in fourth place, pulled an 11:45 out of the bag on his last attempt for the win. Second was Giambartolomei with 12:15, and third Burns with 11:30.

Burns and Van Beuren thrilled the spectators in the 56-lb. weight over bar, reaching world-class heights of 17', with Burns taking the victory on countback. McKelvey was third at 16'.

Overall placings:
1. Kyle McKelvey 16.5
2. Jon Van Beuren 25.5
3. Sean Burns 26.5
4. Chad Thompson 39
5. Jeremiah Giambartolomei 40.5
6. Eddie Johnson 42.5
7. Ryan Huddleston 61.5

This year championships was fantastic, to say the least, and the two rookies, McKelvey and Van Beuren, along with established athlete Burns, all of whom come from a track and field background, put up an amazing performance throughout the competition. McKelvey won the honors and will advance to the 2020 IHGF Amateur World Highland Games Championships in Fefor, Norway.

Women's Finals
The first women's IHGF All-American Championships to be contested at the Great Plains Renaissance Festival included Janine Kuestner, Jamesia Sanou, Christena Burns, Denise Greene, Emalie Humphreys, Elissa Hapner, Kate Langworthy, and Abbi Rood.

Greene and Hapner went all out from the first round in the 16-lb. Braemar stone, with Greene claiming the victory with a massive putt of 36' 11'. Second was Hapner at 35' 11" and third Sanou at 33'.  

The 9-lb. open stone again was close between Greene and Hapner as both produced class putts over 45' with Greene pulling off another win at 47'11" to Hapner's second-place 46' 6". Sanou again was third at 43' 3".  

The top three put on a great show in the 14-lb. weight for distance. After an early lead, Greene was overtaken by Hapner with a terrific throw of 82' for the win. In close second was Sanou at 79' 7" and in third Greene at 78' 6'.

Greene took the reins in the 28-lb. weight for distance to snatch the win from Hapner, 44' 1" to 43' 11".  Sanou did 41' 9".

Greene conquered in the hammers, taking back-to-back victories, lashing out 98' 2"in the 12-lb. light hammer, with a good throw of 93' 11" by Hapner for second. Kuestner pulled off third at 86' 6".

Pushed all the way by Sanou, Greene landed a great series of throws in the 16-lb. hammer, doing a best of  79' 4". Sanou was second at 78' 11" and Kuestner third at 73' 2".

All eyes were on world recordholder Greene in the 28-lb. weight over bar, but she opted to come in at 16' and could not clear the bar: she had plenty height, but her throws were straight up and down in front of the bar. The win was claimed by Kuestner at 16' on countback over Hapner. Sanou made 15'.

The caber, at 16' 8" and 77-lb., was turned only by Greene who slammed an 11:45. Second place on degrees was Hapner with 80, and third was Kuestner at 65.

Congratulations to overall winner Denise Greene, who received a $1,000 scholarship!

Overall placings:
1. Denise Greene 17
2. Elissa Hapner 17
3. Jamesia Sanou 27
4. Janine Kuestner 30
5. Emalie Humphreys 38
6. Christena Burns
7. Kate Langworthy 57
8. Abbi Rood 60

The IHGF would like to thank director Richard Cathey of the Great Plains Renaissance Festival for hosting the IHGF All-American Highland Games Championships, and especially the athletic directors Dave and Gunner Glasgow and Larry and Terri Ventress, for making it all possible.

Next up are the Men's IHGF World Strength Games Challenge, the Women's IHGF All-American Strength Games, and the IHGF California Celtic Classic Highland Games at the San Clemente  Carnival Colossal, 12–13 October at the Vista Hermosa Sports Park, with competitions starting at 1 pm each day, free entry and parking, and all filmed for TV and social media.

                                    ###



You can also follow IronMind on Twitter, Instagram and on Facebook.                        



Want to talk grip, strongman, weightlifting . . . everything strength? Visit the IronMind Forum.