Double IHGF World Events Held in Switzerland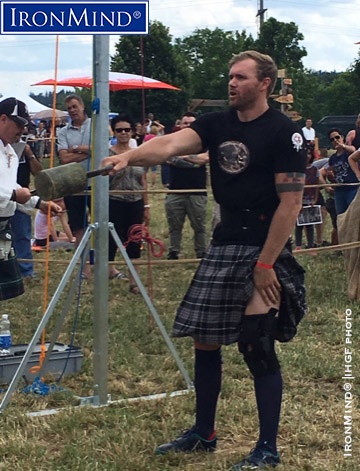 The IHGF continued its worldwide expansion with a double bill of top events in Wolfwil, Switzerland.

2019 Wolfwil, Switzerland: A Double Bill of IHGF Championships
by Francis Brebner
President, International Federation of Highland Games (IHGF)
 
It was an incredible experience at Wolfwil, Switzerland to say the least, at which the Highland Games Mittelland was the host of double IHGF world events, the second leg of the IHGF World Highland Games Series and the 2019 IHGF Lightweight Highland Games World Championships.  Simeon Brugger, the Swiss IHGF representative for the lightweight class, along with Stefanie Frey  and the Highland Games Mittelland committee did outstanding work in setting up the games.
 
Driving through the scenic rural countryside was reminiscent of Scotland, so green and lush. The games field was in a perfect setting, surrounded by the fir trees and rolling woodland hills in the near distance, a feeling of being back home in my motherland Scotland. The Wolfwil Highland Games, only three years old, had a most impressive setup: the entire games field spanned over 20 acres and was filled to capacity with booths of all kinds. Swiss medieval displays and workshops took place alongside the sweet sounds of the traditional pipe bands and the heavy events, which attracted around ten thousand spectators over the weekend of festivities. A games of this size and magnitude would normally take a decade or more to create, and Simeon and the games committee built these games in only three years and were now hosting major IHGF World Championships events.
 
2019 IHGF Lightweight Highland Games World Championships

The weather was perfect for the IHGF Lightweight Worlds and the 14 top athletes from around the world, including Karl Gehrke and Christopher Nickell, USA; Stefan Dumitrica, Romania; David Kirchmayr, Austria; Enrico Riess, Eric Linek, and Berndt Wolf, Germany; Thomas Kung, Christopher Schnider, Andreas Imfeld, and Simeon Brugger, Switzerland; Graeme Allan and Harry Hancock, Scotland; and Sebastien Pizon, France. The athletes looked in great shape and hungry for this year's title. The two favorites were Dumitrica, the winner of the 2016 Worlds, and Gehrke, the runner-up in the 2017 Worlds, along with strong contenders Riess and Kirchmayr.
 
Sparks were flying in the opening event, the 22-lb Braemar stone, with just inches separating the top two athletes. Dumitrica claimed the first victory with a putt of 45' 9", followed closely by Kirchmayr at 45' 4-1/2", with Gehrke in third at 43' 7".

Dumitrica and Kirchmayr once again challenged each other in the 16-lb. open stone, with Dumitrica pulling off his second win with a putt of 36' 7" to Kirchmayr's 36' 3-1/2"; again Gehrke took third, at 34' 5".

The heavy weight for distance was a heated battle between Dumitrica and Gehrke, with the lead changing hands and Dumitrica taking the win in the final round with an epic clutch throw of 43' 7". Gehrke looked satisfied with second place at 43' 4". Third place could not have been any closer between Kirchmayr and Riess, who edged out Kirchmayr 41' 5" to 41' 4".
 
Gehrke took the reins in the first round of the 28-lb. weight for distance, winning with a distance of 62' 6". Second was Riess with 61' 3-1/2" and third Dumitrica with 59' 9".

After four events, Dumitrica was in the driver's seat with 3-point lead over Gehrke.
 
The athletes went at it in the 22-lb. hammer, an electrifying battle between Kung, Reiss, Gehrke, and Dumitrica that ended with an inch separating the top two athletes. Kung edged ahead for the win with 79' 3", leaving Reiss in second with 79' 2". Third was a tie on 77' 3" between Gehrke and Dumitrica, with the win on countback going to Gehrke, who had a better second throw.
 
The 16-lb. hammer was led by Gehrke, with a superb series of throws topped off with 102' 9" for the win. Schnider prevailed with 100' 9" for second place over Kung at 100' 5".
 
After six events, Gehrke had switched places, now with a 3-point lead over Dumitrica.
 
The favorite in the 42-lb. weight over bar was Riess, who excels in this event. Starting at 11' 7", the bar was raised in 1' increments, and at 15' 7" Reiss made a surprising and early exit. At 16' 7", three athletes remained, Gehrke, Dumitrica and Kirchmayr, with only Kirchmayr clearing the height for the win, and Gehrke taking second on countback over Dumitrica, both at 15' 7".
 
With only caber toss left, Gehrke now held an 8-point lead over Dumitrica. At 17' and 90 lb., with not much of a taper, the caber proved a challenge with only half of the athletes turning it and one 12 o'clock nailed by Gehrke. Second was Reiss with 11:59 and third Kirchmayr at 11:58.
 
Overall points
1. Karl Gehrke (USA) 16
2. Stefan Dumitrica (ROM) 23
3. David  Kirchmayr (AUT) 32
4. Enrico Riess (GER) 35
5. Thomas Kung (SUI) 36
6. Chris Schnider (SUI) 47
7. Andreas Imfeld (SUI) 56
8. Simeon Brugger (SUI) 59
9. Christopher Nickell (USA) 73
10. Graeme Allan (SCO) 77
11. Eric Linek (GER) 83
12. Sebastian Pizon (FRA) 93
13. Berndt Wolf (GER) 99
14. Harry Hancock (SCO) 110

 
Second Leg – 2019 IHGF Amateur World Highland Games Series

The following day was the second leg of the 2019 IHGF World Highland Games Series. A great first leg was held in Bressuire, France a month earlier, a riveting competition between top athletes Glenn Nys of Belgium and Skylar Arneson of USA.
 
The lineup, short a few athletes due injuries, included nine stalwarts: Johan Langhorst, Netherlands; Glenn Nys, Belgium; Stefan Kolitsch, Germany; Fabian Patheney, France; Yrjo Hamalainen, Finland; Svavar Sigursteinsson, Iceland; Istvan Vass, Hungary; Skylar Arneson, USA; and Joe Pokock, Canada.
 
Athletes were pumped up and excited to get right into the 22-lb. Braemar stone, and Arneson dominated in his renowned, favorite event, which he won with a distance of 39' 2". Hamalainen produced a commendable second-place result at 35' 5-1/2", followed by Kolitsch, inches behind at 34' 9".
 
The 28-lb. and 56-lb. weights for distance were combined for the IHGF Amateur Weight for Distance World Championships. In the 56-lb weight for distance, Nys could not be matched from the start and was the only athlete over 40', with a winning distance of 40' 2". Second was Arneson at 35' 9" and third Pokock at 30' 8". The 28-lb. weight for distance was another win for Nys, who unleashed a throw of 77' 5",  with Arneson second at 73' 5" and Kolitsch third at 59' 8".
 
The 56-lb. weight over bar has been a tight competition between Nys and Arneson, and Nys won the IHGF Amateur 56-lb. Weight Over Bar World Championships in Bressuire. Here in Wolfwil, the height started at 12' and quickly rose to 16', which only three athletes successfully cleared, and unfortunately Langhorst pulled a muscle in his chest and had to withdraw from the event, leaving only Arneson and Nys facing a bar of 16' 7". In the first two rounds both athletes came close to clearing, and in the third round, Nys gave his all but fell short. Arneson got the crowds behind him and cleared the height, running around the arena in joy.
 
The combined 16-lb. and 22-lb. hammers were for the IHGF Amateur Scottish Hammer World Championships, and in the 22-lb. hammer Arneson marginally pulled off the win by only one inch over Nys, 95' 5" to 95' 4". Third was Patheney with a splendid throw of 87' 9". Arneson the current world record holder in the 16-lb. hammer, took the early lead in that event. Nys had an equipment problem with the hammer head coming off and took a moment to get back in the zone, but was soon adding pressure to Arneson, who pulled up a little in his final attempt. Nys let fly the hammer which sailed over Arneson's mark by over 2 m, a distance of 133' 7" to Arneson's 126' 5". Sigursteinsson was third at 110' 5".
 
Going into the caber toss, Arneson had a 5-point lead over Nys. A strong favorite for the win in this event was Stephan Kolitsch, who held the title of 2019 IHGF Amateur Caber Tossing world champion, and unfortunately Langhorst, a former three-times IHGF Amateur Caber Tossing world champion, was out of the games. In the first round Nys took the lead, tossing the 18'-long 135-lb. caber for 12:02, and Kolitsch did 11:56; Arneson's best was 80 degrees. In the second round Nys pulled a toss of 11:56, which was overtaken by Kolitsch's 11:59. In the final round Nys did 11:00, with Pocock doing 11:55. The overall winner was Kolitsch with 11:59, second Nys at 12:02 ,and third Pocock at 12:05.
 
Overall points
1. Skylar Arneson (USA) 15
2. Glenn Nys (BEL) 17
3. Stefan Kolitsch (GER) 26
4. Joe Pokock (CAN) 38
5. Svavar Sigursteinsson (ICE) 42
6. Fabian Patheney (FRA) 48
7. Yrjo Hamalainen (FIN) 51 
8. Istvan Voss (HUN) 58
9. Johan Langhorst (NED) 63
 
IHGF Amateur Highland Games World Series – Overall Standings After Second Leg
1. Skylar Arneson (USA)
2. Glenn Nys (BEL)
3. Joe Pocock (CAN)
4. Stefan Kolitsch (GER)
5. Johan Langhorst (NED)
6. Svavar Sigursteinsson (ICE)
7. Fabien Patheney (FRA)
8. Yrjo Hamalainen (FIN)
9. Jamie Gunn (SCO)
10. Murdo Masterson (SCO)
11. Istvan Voss (HUN) 
12. Maxime Billeaud (FRA)
13. Tibor Kiss (HUN)
 
The third and final leg of the IHGF Amateur Highland Games World Series will be held in Fefor, Norway, 23–24 August 2019.


                                     ###



You can also follow IronMind on Twitter, Instagram and on Facebook.                        



Want to talk grip, strongman, weightlifting . . . everything strength? Visit the IronMind Forum.