Burns, McKee and Garrison Win at the Las Vegas Highland Games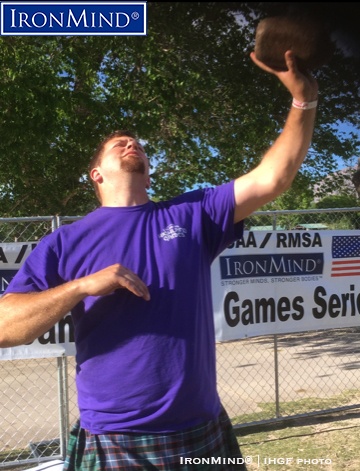 The 2019 Las Vegas Highland Games brought Amateur A men, women and the IHGF All-American Strength Games to town for a power-packed weekend of playing with sticks and stones.

2019 Las Vegas Highland Games: Triple Play
by Francis Brebner
President, International Highland Games Federation (IHGF)

The 2019 Las Vegas Highland Games celebrated its 15th year of Highland games and attracted over 11,000 spectators and more than 110 athletes over the two-day competition. For A group athletes Sean Burns, Eli Kiener, Zach Hernandez, Jackson Reeves, Patrick Colonnelli, Brian Crew, Kevin Mynarski, Bryan Funk, Garrett Gardner, Filippo Lovotti, West Imboden, and Adam Beach, this was also the third leg of the IHGF All-American Championships qualifying games.

This year's Las Vegas Games was undoubtedly one of the best organized to date: everything ran smoothly, the layout of the field was well-conceived, and the spectators could not have been more supportive of the athletes.

Opening with the 22-lb. Braemar stone, Burns and Kiener went back and forth every round with Burns claiming the win with a final putt of 39' 4". Kiener followed at 38' 7" for second, and Zach Hernandez was third at 34' 3".

The 16-lb. open stone was riveting as Reeves made his presence known with a clutch throw of 45' 3". Close behind in second was Burns at 44' 6", with Kiener third at 42' 9".

Talk about a ding-dong battle in the 28-lb. weight for distance: Kiener and Colonnelli grappled, with Kiener marginally pulling off the victory with a throw of 65' 9" to Colonnelli's second-place 65' 2". Hernandez followed at 61' 3".  

In the 56-lb. weight for distance, Burns turned up the heat and pulled out a best of 32' 5" for the win. Funk and Colonnelli dueled, with Funk going ahead with 30' 11" for second, leaving Colonnelli in third at 30' 9".

The 16-lb. hammer was a hard-fought battle between the top three athletes, with the win going to Kiener at 112' 8". Second was Hernandez at 111' 6", just inches ahead of Burns at 111' 2".

Kiener pulled out a series of clutch throws in the 22-lb. hammer, blasting out 95' 6" for the win. Hernandez did 90' 11-1/2" for second and Burns 87' 2" for third.

The caber was 19' and 100-lb., with only two athletes turning it. The win went to Burns, who did 1:00. Funk, second, tossed 2:30, and Mynarski took third with an 85-degree attempt.

Starting at 12' in the 56-lb. weight over bar, only three athletes were left at 15'. Burns cleared the 15' for the win, and second at 14' went to Funk on countback, with Kiener in third.

Burns cleared 33' in the 20-lb. sheaf toss, a highlight which set a new field record. Second was Kiener at 26', and Colonnelli was the best of five at 24'.

Overall places
1. Sean Burns
2. Eli Kiener
3. Patrick Colonnelli
4. Zach Hernandez
5. Kevin Mynarski
6. Bryan Funk
7. Brian Crew
8. Garrett Gardner
9. Filippo Lovotti
10. Jackson Reeves
11. West Imboden
12. Adam Beach

Kiener will join Burns, John Anthony, and Skylar Arneson at the finals of the IHGF All-American Highland Games Championships in Wichita at the Great Plains Renaissance Festival in September.

In the woman's A group, a strong field of athletes included Meagan McKee, Katie Crowley, Kristin Rhodes, Mikaela Sullivan, Jarvina Routt, Christena Georgas Burns, Sefra Wilson, Anitra Sopronyi, Jacqueline Scordato, and Tara Neal. It was great to see the return of Rhodes, a three-time winner of World's Strongest Woman, to competitive Highland Games after a 10-year absence.

In the 13-lb. Braemar stone, McKee took the first win of the competition with a nice putt of 34' 2"; second place was Crowley at 30' 10", and a tussle for third with Burns besting Sullivan, 29' 6" to 29' 3".

McKee notched another win in the 9-lb. open stone with a putt of 40' 3". Crowley was not far behind with a second-place putt of 37' 11", and Sullivan followed at 36' 9-1/2".

McKee gave her all in the 14-lb. weight for distance with a majestic throw of 75' 9-1/2" for the win, and Rhodes's impressive one-turn throw at 72' 3" garnered second place, with Crowley taking third at 68' 7-1/2".

The heat continued in the 28-lb. weight for distance as McKee nailed a winning throw of 43' 1". Second place was a ding-dong battle with Rhodes outdistancing Crowley 39' 2" to 38' 1/2".

The 12-lb. hammer got off to a great start for McKee as she upped her distance every round, finishing with a clutch throw of 104' 5". Second place was Rhodes with a notable 87' 8", and third Sullivan at 84' 11".

In the 16-lb. heavy hammer, McKee let rip with an awesome throw of 87' 1" for the victory. In respectable second place was Rhodes at 74' 7" and in third Sullivan at 70' 4".

The 28-lb. weight over bar was an epic battle as McKee and Rhodes both cleared 17', with the win going on countback to McKee. Third was Crowley at 15'.

Crowley and McKee dueled in the 10-lb. sheaf over the bar, with McKee pipping Crowley at a whopping 26' to Crowley's 24'. Routt was third at 22'.

With a 15', 50-lb. caber, Routt, Wilson, Crowley, McKee and Sullivan all nailed 12 o'clock tosses, with the win on countback going to Routt, with Crowley and McKee taking second and third respectively.

Overall places
1. Meagan McKee
2. Kate Crowley
3. Kristin Rhodes
4. Mikaela Sullivan
5. Jarvina Routt
6. Christena Georgas Burns
7. Sefra Wilson
8. Anitra Sopronyi
9. Jacqueline Scordato
10. Tara Neal

McKee will join Felicia Baker Baltren, Ashley Weber, and Jamie Channel at the finals of the IHGF All-American Highland Games Championships in September at the Great Plains Renaissance Festival in Wichita.

An added attraction at this year's Las Vegas Highland Games was the IHGF All-American Strength Games, in which eight USA strength athletes battled over four events, which were filmed for a half-hour show that will be aired later this year on ESPN. The lineup was impressive: Casey Garrison, Chris Burke, Mike Salter, Oliver McKeag, Tom Masters, Anthony Sberna, Eric Small, and Bryan Benzel.

The athletes looked in great shape and ready to go on the 56-lb. weight over bar, and at 14', five athletes were still in the competition. At 15' only Burke, Garrison and Small cleared the height, and at 16', Small and Garrison were still standing as the bar was moved up to 16' 6". Garrison topped it for the win and a new personal best, with Small in second at 16' and Burke third at 15'. Unfortunately, Benzel, who had been easily clearing the bar, pulled a muscle and had to withdraw from the competition.

The 55-lb. stone putt was a spectacular event as Garrison, with great timing and explosive power, gained a new IHGF world record with a putt of 25' 10", surpassing his former record of 24' 10". Small took second at 21' 9-1/2" and Salter took third at 21' 2-1/4".

The caber for distance was a definite highlight with the crowd as two athletes went over 40': Garrison took the early lead up until the final round when Small delivered an impressive distance of 42' 2' on his last attempt for the win over Garrison's 41' 6-1/2". Third was Salter at 38' 3".

In the 260-lb. stone press overhead, athletes had to lift the stone from the ground to the chest and press and lock out as many reps as possible in 60 seconds. With only one point separating them, Small needed the win to at least tie Garrison. Burke and Salter each did 1 rep. As Small reached down to pick up the stone, you could see the pain in his face as he clutched an injured arm, and sadly he had to retire from competition. Garrison, who is known for his overhead stone pressing, swiftly knocked out 4 reps for the win and the overall title of IHGF All-American Strength Games champion.   

Overall places
1. Casey Garrison
2. Eric Small
3. Mike Salter
4. Chris Burke
5. Anthony Sberna
6. Oliver McKeag
7. Bryan Benzel

The 2019 Las Vegas Highland Games was by far the best one staged to date, with a big thanks to Christena Burns, Brittany Pryor, and their crew. Next on the IHGF calendar of events will be the fifth qualifying games in the IHGF All-American Championships series in Albuquerque, New Mexico, 4–5 May.


                                                         ###

You can also follow IronMind on Twitter, Instagram and on Facebook.                        



Want to talk grip, strongman, weightlifting . . . everything strength? Visit the IronMind Forum.