2019 Memorial Day Sale at IronMind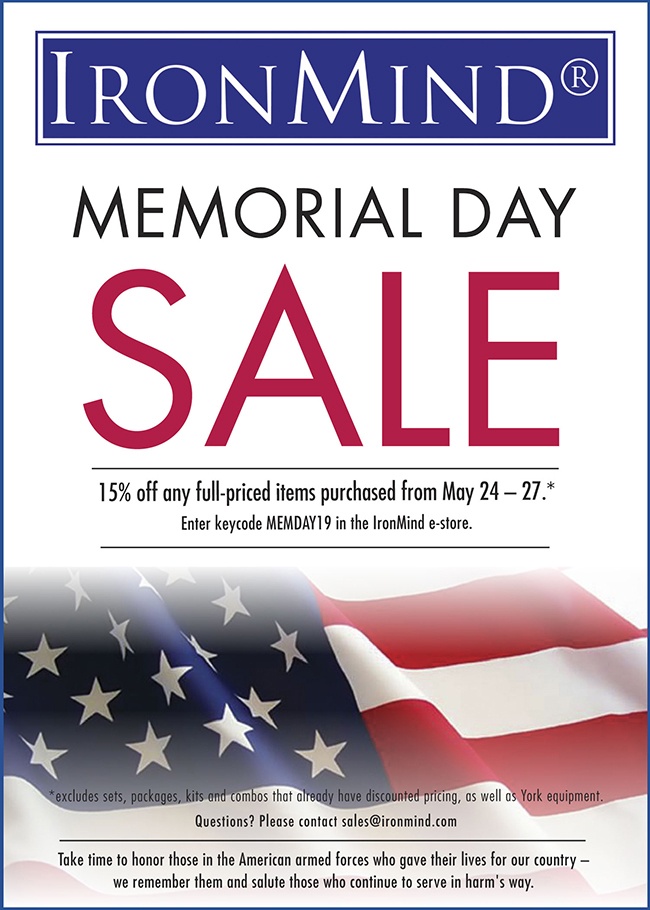 Here's your chance to save on those IronMind® classics you've been eying: Vulcan Racks, Captains of Crush grippers, Rolling Thunders, 5-Star Flat Benches, Tough-As-Nails Gym bags and Sandbags, Buffalo Bars, Apollon's Axles, ALight Training Centers, Strong-Enough lifting straps, Z-1500 belts . . .

IronMind has offered Tools of the Trade for Serious Strength Athletes™ since 1988, and our Memorial Day Sale gives you a chance to save 15% on legendary IronMind products.

The 2019 IronMind Memorial Day sale runs May 24 - 27 and ALL* full priced items are 15% off, so shop with the code MEMDAY19 in the IronMind e-store and get what you need to push your training and performance into new territory.

*Does not include York equipment, already discounted items or sets/packages.

Questions? Email sales@ironmind.com and we will be happy to help you.


                                      ###



You can also follow IronMind on Twitter, Instagram and on Facebook.                       



Want to talk grip, strongman, weightlifting . . . everything strength? Visit the IronMind Forum.