Karl Gillingham Leads at the FitExpo
Don't worry about having just changed jobs, coming off limited training or even being on the mature side of 40, because Karl Gillingham is in the lead after the the first day of the strongman competition at the FitExpo.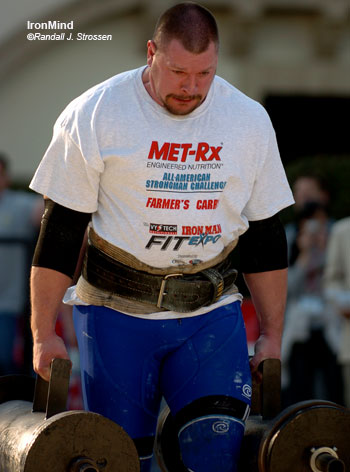 Karl Gillingham wrapped up the first day of strongman competition at the FitExpo holding onto first place. IronMind® | Randall J. Strossen, Ph.D. photo.
There might be something to cold weather training, because fellow Minnesotan Dave Ostlund is in second place. Kevin Nee is in third, followed by Odd Haugen and then Sam McMahon.

The action continues at the FitExpo today and if you're an aspiring competitor or just want to learn more about strongman while enjoying a terrific contest, be sure to stop by - besides his entertainment value while behind a microphone, Jesse Marunde is providing the sort of expert color commentary that will be appreciated by competitors and fans alike.