Icelandic Powerlifting Championships: 1100-kg Totals?
The Icelandic Powerlifting Championships are set for April 16 and insiders are predicting that both Audunn Jonsson and Benedikt Magnusson might well produce 1100-kg totals.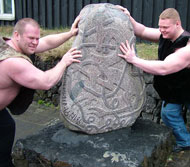 Audunn Jonsson (left) and Benedikt Magnusson (right) will go head to head at the upcoming Icelandic Powerlifting Championships. These modern-day Vikings are no doubt drawing strength from this stone, which displays the language, going back to the third century, that their forebears used. IronMind® | Photo by Hjalti Arnason.
The stage is set for big numbers when Audunn Jonsson and Benedikt Magnusson meet on the powerlifting platform.

"Jonsson did 1050 kg last year in the 125-kg class, now he is 138 kg and is ready for the wonder kid Benedikt Magnusson."

Benedikt Magnusson has been making headlines in the strength world with his huge deadlifts: After pulling a 410-kg deadlift about a week and a half ago, Benedikt Magnusson told IronMind® that he planned to open with 410 kg at the Iceland Powerlifting Championships, take 425 kg on his second attempt, to break Andy Bolton's all-time record, and then take 455 kg on his third attempt, to be the first man to deadlift 1,000 pounds.