2013 IHGF World Amateur Highland Games Championships
The 2013 IHGF World Amateur Highland Games Championships have been scheduled for June 22 in Fuerstenwalde/Spree, Germany—hosted by the GHGF.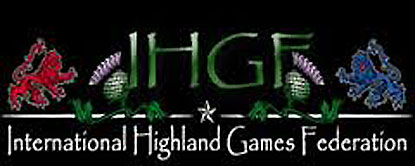 The world's top amateur Highland Games competitors will test their skills this summer at the IHGF Amateur Highland Games World Championships. IronMind® | Image courtesy of IHGF.


IHGF vice president Francis Brebner told IronMind, "The IHGF are very happy to be working with such a good sports promoters as Hans-Dieter Dorow, president of the GHGF, and Daniel Dorow, vice president of the GHGF; they have a real passion and drive to promote the sport of Highland Games within Germany."

"We are very pleased that Fuerstenwalde/Spree, Germany is selected as this year's hosting country for the IHGF World Amateur Highland Games Championships and for us to be able to bring the best amateur athletes from around the world to compete in our [Highland] Games here in Germany and to have this championships also filmed for European TV is just fabulous," said Hans-Dieter Dorow in an IHGF press release sent to IronMind.


"This is a good very good start to our plans within the GHGF. "Our aim is to build the sport much bigger for our athletes and also essentially to encourage more young blood into the sport here in Germany.

"We are also very delighted to have the IHGF the world governing body for Highland Games here also to officially open the very first of five games in the German Highland Games series on Sunday, June 23."

Brebner told IronMind that the list of competitor will be announced soon.

### 



The IronMind Forum: discuss this article, talk strength, get help with your training.

You can also follow IronMind on Twitter.