Vitalik Sevko Certifies on the IronMind Red Nail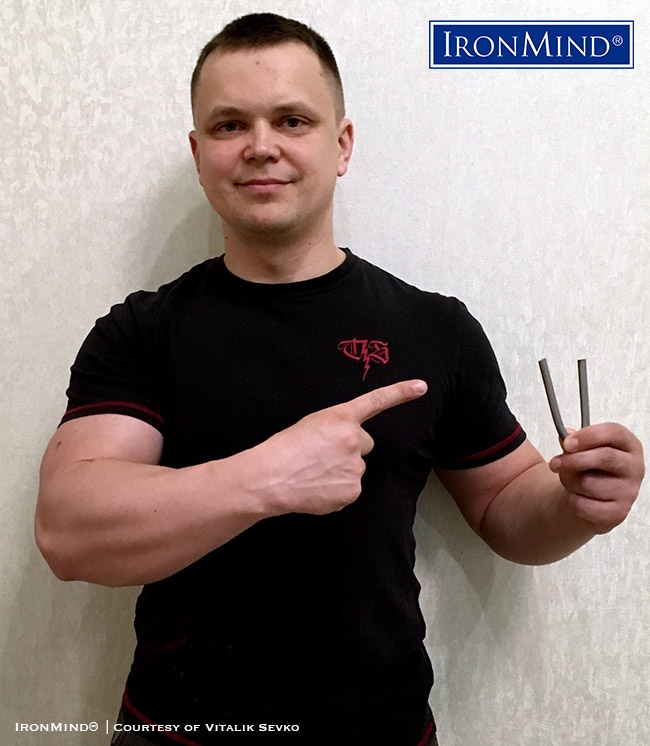 Since 1995, the IronMind Red Nail has been the international benchmark of steel bending excellence: Russian armwrestler, grip strength enthusiast and steel bender Vitalik Sevko has just been certified, proving his mastery of this feat of strength.


Vitalik Sevko told IronMind that he has been bending "about five years, but with big breaks.

"I am 36 years old. I am fond of steel bending. Learned about the grippers and development of grip strength about 8 years ago, and then about steel bending. 


"I am engaged in an armwrestling at the amateur level. In the trainings, periodically I use the exercises connected with development grip strength. I do trainings on steel bending 1-2 times a month


"Grip training and steel bending—for me more a hobby. Also my hobby is collecting of unusual and especially rare hand grippers. I plan to prepare for certification on Captain of Crush No. 3 gripper.

Recognizing his success, IronMind has added Vitalik Sevko's name to the Red Nail Roster—congratulations on achieving this distinction!

IronMind would like say a special thank you to Bear Grip's Egor Meshkov for refereeing this attempt to bend an IronMind Red Nail under official condition—very much appreciated.

                                                         ###

You can also follow IronMind on Twitter, Instagram and on Facebook.                        



Want to talk grip, strongman, weightlifting . . . everything strength? Visit the IronMind Forum.