Hannes Thorsteinsson Certifies on the Captains of Crush No. 3 Gripper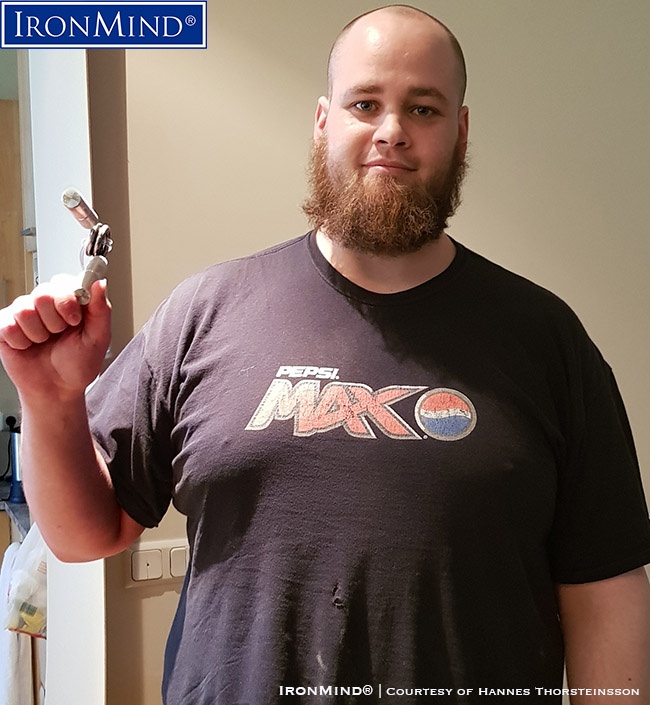 Talk about a talent: Hannes Thorsteinsson (Iceland) has been training on Captains of Crush grippers "for just over 4 months" and he's just been certified on the world renown No. 3.

Thorsteinsson's rocket-like trajectory in the grip strength world shows what happens when talent meets inspiration: asked how he heard about Captains of Crush (CoC) grippers, Thorsteinsson said, "I saw Magnus Samuelsson close the No. 4 on YouTube. I could close the No. 1 and No. 2 when I bought them, and the managed to close the No. 2.5 two weeks later.

"I train grippers every 5 days, and do heavy closes three sessions in a row and the fourth is a light one with high rep count. I've always been active with my hands, both for work and at home. I turn almost anything into a grip challenge for myself," said Thorsteinsson.

Describing himself as, "A part time bouncer that has a burning interest in grip feats and grip training," Thorsteinsson said, "I used to train and compete in strongman, but my focus has shifted to grip strength with a lofty goal of closing the CoC No. 4. Biggest accomplishment is when I won a local strongman competition two years in a row."

Congratulations, Hannes, it's official: you have been certified and your name has been added to the official Captains of Crush No. 3 gripper certification list. Many thanks to Stefan Arni H. Gudjohnsen for refereeing this attempt—very much appreciated.

Here a link to the video of Hannes Thorsteinsson closing the Captains of Crush No. 3 gripper under official conditions.


Come on, Hannes—you are supposed to make it look hard!

                                                         ###

You can also follow IronMind on Twitter, Instagram and on Facebook.                        



Want to talk grip, strongman, weightlifting . . . everything strength? Visit the IronMind Forum.