Bryan Hunsaker Certifies on the Captains of Crush No. 3 Gripper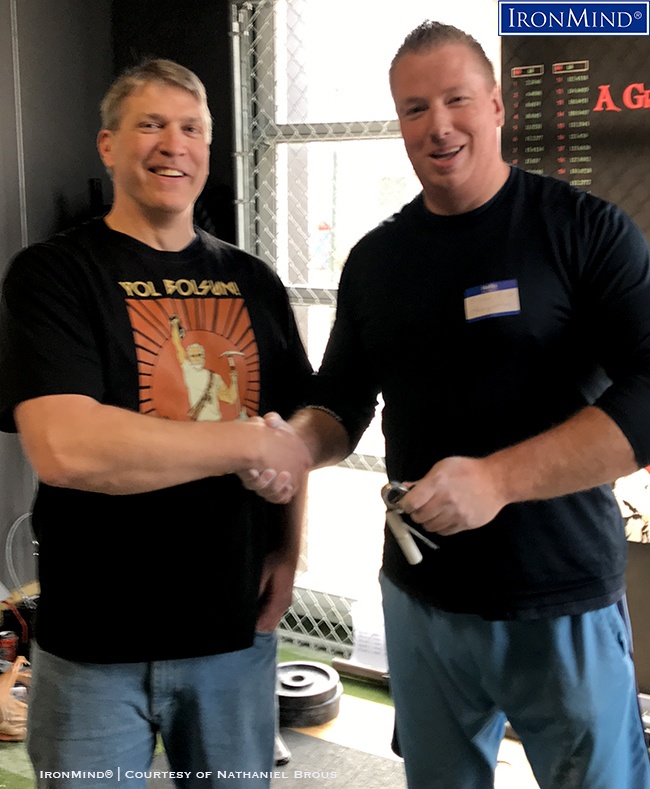 He's 6'8" tall, weighs about 300 lb., and his referee—Nate Brous—described him as "a mountain of a man," so there was no lack of mass when Bryan Hunsaker clamped down on a Captains of Crush No. 3 gripper and crushed it . . . officially.

"It actually closed quite easily this time.  People were a bit disappointed I didn't have to grind it out!," Hunsaker told IronMind. Hunsaker was competing at Chris Rice's 2018 Gripmas contest, so he had a fully appreciative audience.

Asked about his background, Hunsaker said, "I am a former Division I college football player who has also been a collegiate strength training coach, Hunsaker. I've been around weightlifting for nearly 2 decades, and since 2016 have been competing in Grip Sport. I currently hold the no-hook-grip world record hold on the Dinnie Stones, and have successfully lifted manhood stones in Scotland, Iceland and the USA.  My short-term goal is to lift every manhood stone in Europe, and the USA, and I'm about halfway on the journey.
 
"As a father of 3, family is my top priority.  I'm an export business owner, and I also run a free gym where I train high school athletes preparing to play college football, and have been doing this for 8 years.
 
"Grip is a central focus in my training, and the training of my athletes.  We always say that the first rule in our gym is grip strength!  We train some aspect of grip during every session, but I feel my primary source of grip strength has come from always deadlifting double-overhand to failure, before utilizing straps.
 
"As a board member of Grip Sport International, I'll be active in competing in and promoting grip for the foreseeable future.
 
"Thank you to IronMind for the opportunity to certify on the Captains of Crush No. 3 gripper.  Also, thanks to Nathaniel Brous for refereeing the certification, and the time he spent for others at this year's Gripmas event.
 
"I'll now shift my focus to the [Captains of Crush] No. 3.5 and target a certified close in 2019!," Hunsaker said.

Congratulations, Bryan: It's official and Bryan Hunsaker has joined the proud ranks of gripsters certified on the Captain of Crush No. 3 gripper. Special thanks to Nathaniel Brous, CoC3 '14, Red Nail '13 for jumping in to ably referee at the last minute—very much appreciated.


                                              ###



You can also follow IronMind on Twitter, Instagram and on Facebook.                        



Want to talk grip, strongman, weightlifting . . . everything strength? Visit the IronMind Forum.