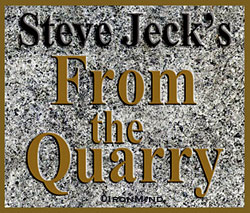 Inspiration from IronMind's man of pen and stone, Steve "Inver Stone" Jeck
Co-author Of Stones and Strength and The Stone Lifter
What's Your Pleasure?

"The secret of happiness is not doing what one likes, but in liking what one has to do."—James M. Barrie 

I was shocked when I read that Paul Anderson used to hate squats.  It was like learning that Picasso disliked paint.  Needless to say, Big Paul adapted!
A wise businessman once said that successful people choose pleasant results while failures choose pleasant methods.  Have an awfully tough day! 
 ###
Editor's Note: Steve Jeck's books, Of Stones and Strength and The Stone Lifter; and videos, Kviahellan DVD, Jeck on Stonelifting video, and Classic Jeck: The First Works CD, define the world of stonelifting.


Looking for top-drawer training combined with a healthy dose of inspiration, including one-of-a-kind essays by Steve Jeck? MILO: Strength is for you.