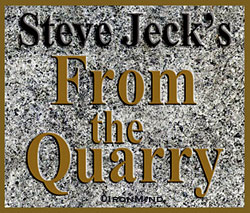 Inspiration from IronMind's man of pen and stone, Steve "Inver Stone" Jeck
Co-author Of Stones and Strength and The Stone Lifter
Too Early to Quit 

"It's always too early to quit."—Norman Vincent Peale 

I'm like you.  I'm avoiding the temptation of making any New Year's resolutions (having broken so many of them in the past).  And yet, I have discovered a surefire way of determining whether or not it's too late to set and achieve meaningful goals—and you can find it in tomorrow's newspaper.  Just flip to the obituaries section.  If you don't see your name listed . . . go for it! 
 ###
Editor's Note: Steve Jeck's books, Of Stones and Strength and The Stone Lifter; and videos, Kviahellan DVD, Jeck on Stonelifting video, and Classic Jeck: The First Works CD, define the world of stonelifting.


Looking for top-drawer training combined with a healthy dose of inspiration, including one-of-a-kind essays by Steve Jeck? MILO: Strength is for you.