IronMind Home Training Systems
No time wasted commuting or waiting to use equipment in the gym—IronMind has what you need for world-class workouts just about anywhere.
Vulcan Racks III System Squat Racks
Add-ons let you squat, dip and chin—and more!
The world's most famous squat racks can also be used for dips, chins and wrist roller work. With its compact design and easy breakdown, Vulcan Racks are ready for serious workouts at home. Proven for over 20 years, they are the top choice for a rock-solid squat rack.
The Vulcan Racks III System is available in many combinations and components in the IronMind e-store.
Here is what you need if you want to:
ALight Training Center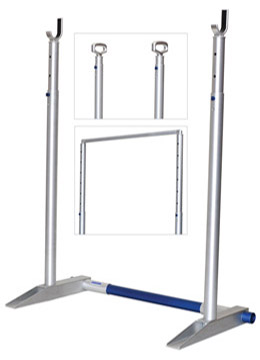 If you're ready for a revolution in home gym training, take a close look at the ALight Training Center.
Light as a feather, strong as an ox.
ultra portable, but seriously strong
all-aluminum consruction, with no welds, nuts or bolts
precision-crafted and stunning, with instant change-outs
squat racks weigh less than 32 lb.
never before have the big 3—squat, dip, chin—been so accessible and transportable
dipping handles, designed for confort and a secure grip, 1-1/38" x 1-1/8"
system includes: ALight base and squat, dip, and chin attachments
Outside width adjusts from 20-1/2" to 47-1/2"; 24" front to back; squat uprights adjust at 2" intervals from 48" to 83"; massive 2-1/2" diameter uprights.
The ALight Training Center is available in the IronMind e-store.
Which training system is right for you?
| | | |
| --- | --- | --- |
| | ALight | VR III |
| Squat capacity | 700 lb. | 1,000 lb. |
| Dips | Adjustable width. Hands parallel or 45°. | Adjustable width. Hands parallel or 45°. |
| Chins | Strict only | Strict only |
| Bench presses | No | Yes |
| Portable | Extremely (squat racks weigh less than 32 lb.) | Very (squat racks weigh 54 lb.) |
| Swap-outs: squat–dip–chin | Extra easy | Very easy |
| Height/width adjustments | Yes, squats, dips, chins | Yes, squats, dips, chins |
| Footprint | 24" x 47-1/2" | 24" x 52" |
| Squat racks | 48" to 83" | 37-1/2" to 64" |
| Max height chinning bar | 85" | 83-1/2" |
| Price to squat, dip, chin | $1,399.95* | $1,052.85* |
*plus S&H and tax, where applicable