Wade Gillingham: 77-lb. Blob Lift . . . Warming Up for the GNC Grip Gauntlet at the FitExpo
When Wade Gillingham says, "I have been doing some big Blob lifts lately," it cuts through the background noise and rings a bell at IronMind®.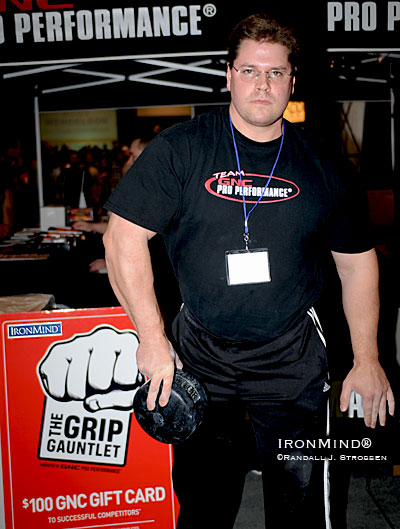 Wade Gillingham might modestly say he's the self-proclaimed Blob king, but even what he does casually is off the charts . . . like this thumb-plus-two-fingers lift at last year's GNC Grip Gauntlet held during the FitExpo. Swing by the GNC Grip Gauntlet at the 2009 FitExpo, meet Wade Gillingham in person and see for yourself what he can do. IronMind® | Randall J. Strossen photo.


In Wade Gillingham's hands, this normally defiant chunk of cast iron becomes quite docile, and last Wednesday Gillingham lifted the Blob "off the ground 103 times in succession, alternating right and left hands."

That was nice lifting, but how about shrinking the volume and boosting the intensity?

Last night, Wade Gillingham obliged all of us who'd rather see one big number than a pile of smaller ones, and he "lifted the Blob plus weight for a total of 77 pounds," which is the highest number we know of.

Not one to get complacent, though, Wade Gillingham is quick to say that he is motivated by what he sees looming large in his rear view mirror . . . a giant of a man whose lifts are gaining a lot of attention: "I know Brian Shaw is a monster and that if I don't keep pushing, he may go past me and take my crown of the best wide pinch in the world."

Come to the FitExpo, swing by the GNC Pro Performance booth, and give the GNC Grip Gauntlet a try, and while you're there, ask Wade to give the Blob a little airtime.

For full details on The FitExpo, please visit the FitExpo website.