USA vs. Russia: 2-Man Strongman Teams
"I'm on the way to Russia with Travis [Ortmayber] and Andy Vincent for a team USA vs Russia with Misha and Alexander Klushev," Dione Wessels reported to IronMind.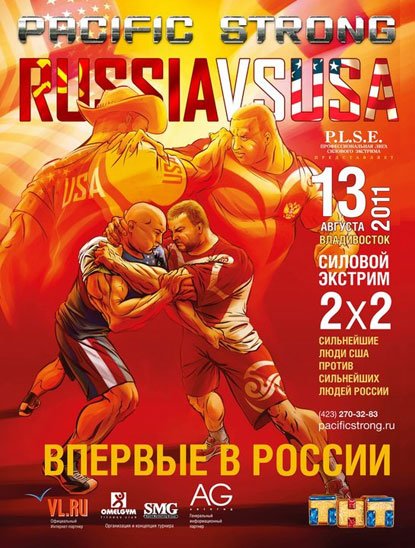 Two-man strongman, including sumo, is the format of the USA vs. Russia contest this weekend. IronMind® | Courtesy of PLSE and pacificstrong.ru.


"The event was supposed to be Saturday but we had some visa issues," said Wessels. "It's very difficult to get to Russia! Now the contest will be held on Sunday."

Here are the events:

1. Deadlift: for two athletes in pair
2. Log Lift: in pairs
3. Arm-Over-Arm: in pairs
4. Sudan Walk: 600 kg for pair
5. Sumo
6. Medley: yoke (410 kg), chain (250 kg), tire (400 kg - 5 reps/flips), log (180 kg)
7. Medley: bags (100 kg), atlas stone (200 kg), log

Wessels said she's in Moscow tonight, " . . . waiting until tomorrow to hopefully go to Vladivostok."

###

The IronMind Forum: discuss this article, talk strength, get help with your training.

You can also follow IronMind on Twitter.