USA Weightlifting Nationals and Pan Am Sub 15 Championships
The USA Weightlifting National Championships begin today in Shreveport and this marks the beginning of the countdown to the 2008 Olympic Games.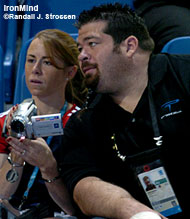 If you lift weights, think you're strong and want to go to the Olympics, weightlifting is your sport: Here, Tara Nott and Shane Hamman, both from the US, relax as they get interviewed at the 2004 Olympics. Tara Nott won a gold medal at the 2000 Olympics and while Shane Hamman might not have medaled, he's a two-time Olympian, he holds all the American super heavyweight records in the sport, and if you're still wondering about just how strong he was, Shane still holds the IPF super heavyweight world record in the squat. IronMind® | Randall J. Strossen, Ph.D. photo.

Over the next three days, the top American weightlifters will be battling it out at Louisiana State University, aiming to make the US team going to the World Weightlifting Championships later this year. Based on performances at the 2006 and 2007 World Weightlifting Championships, the US will qualify for a designated number of slots in weightlifting at the 2008 Olympics, so this contest is the beginning of the journey to Beijing.

And talking about the future, on August 18 - 19 USA Weightlifting will host the Pan American Sub 15 Weightlifting Championships at the US Olympic Complex in Colorado Springs, Colorado, featuring the top young weightlifters from the Pan American nations.