US Invitational Heavy Events Championships: Tyler, McKim Tied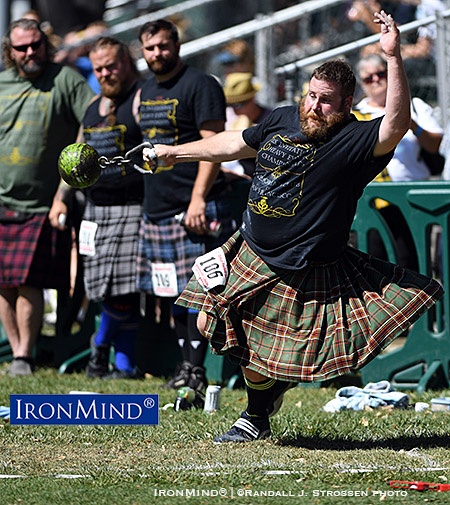 After the first day of the US Invitational Heavy Events Championships, Spencer Tyler and Dan McKim are tied for the lead.


 
Tie on First at 2016 U.S. Invitational Heavy Events Championships
by Elizabeth M. Hammond
IronMind Enterprises, Inc.

They are neck and neck after day one at the San Francisco Caledonian Club's 151st U.S. Heavy Events Championships in Pleasanton, California: Spencer Tyler, current world record holder in three events, and multiple times world champion Dan McKim ended the first day's competition on 10 points each, followed by Matt Vincent on a distant 23. 



New to the pro class, Tyler distinguished himself early on in the Braemar stone with a second place throw of 39' 3" to McKim's third-place 37' 9"—Andy Vincent was first with 40' 11".



McKim outdistanced everyone in the light hammer at 143' but Tyler was still second on 138', followed by Matt Vincent at 129' 10".



In the heavy weight for distance, where Tyler is the current world record holder, he predictably came in first at 46' 4" in spite of two fouls, with McKim dogging him in second at 42' 4". 



Both McKim and Tyler were the last men standing at 16' in the weight-over-bar, with Tyler making 17', which McKim missed, and in the caber, McKim bested Tyler with two 12:00s, landing second and fourth place, respectively. 



Athletic director Steve Conway called in mild temperatures for the day, and as always, capably managed the five classes of athletes competing simultaneously on the field, with judge Laurie Moore keeping everyone honest. Announcer Sabrina Robinson. rivaling Matt Vincent, kept the information flowing and funny, laced with with plenty of zingers.

                                                                    ###



Follow IronMind on Twitter and on Facebook.


Want to talk strength? Visit the IronMind Forum: Strongman, grip, Highland Games, Olympic lifting, stones and more.