Sean Betz Wins the 2010 Portland Highland Games
It was was a star-studded field at the Portland Highland Games over the weekend, producing some big throws and a big victory for Sean Betz.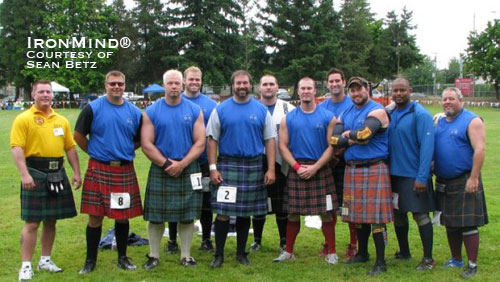 Here's the a group photo from the 2010 Portland Highland Games, with the winner, Sean Betz, front and center. There's over a ton-and-a half of muscle squeezed into that shot. IronMind® | Photo courtesy of Sean Betz.


2010 Portland Highland Games
by Francis Brebner

There was big throwing all around this past weekend at the 2010 Portland Highland Games as the best in the USA went at it hot and heavy over seven events. Several thousand spectators turned out to watch the festivities, which included the Simon Fraser University Pipe Band from Vancouver, Canada, which is the six-time and reigning world champion.

The highlight of the Games no doubt was the heavy events, which featured a star-studded lineup of names, including Sean Betz, Larry Brock, Ryan Vierra, Daniel McKim, Mike Zolkiewicz, Eric Frasure, Mike Pockoski, Harrison Bailey, Chad Gustin, and John Odden.

In the 26-lb. Braemar stone throw, it was Zolkiewicz who took the first win with a record-breaking throw of 18' 3/4", smashing his old record of 17' 2-1/4" by nearly a foot. Pockoski placed second at 16' 7-3/4", with big McKim in third place at 16' 1".

The next event, the 16-lb. open stone, proved to be a breeze for McKim, who advanced by nearly half a meter over his rivals with a put of 52' 9"; Pockoski lay in second place with 50' 7-1/2" and Betz took third with 50' 1-1/2".

Moving on to the 28-lb. weight for distance, this was one of the high points of the competition, with seven athletes going over 80' and the winning distance coming from Frasure with a season's best of 89' 9". In second place was Betz with 86' 5" and in third, Brock with 86' 3-3/4".

In the 56-lb. weight for distance, we again witnessed a great showdown with eight athletes this time going over 42'. Eric Frasure claimed his second win with a throw of 45' 2-3/4"; in second place was Pockoski at 44' 7-3/4", and Betz pipped Brock for third place with 44' 6".

The 16-lb. hammer was another impressive competition as Pockoski, the current IHGF World Hammer Throwing champion, pulled out his best to win this event with a throw of 138' 6-1/2" over Betz, who placed second with 134' 3". Brock landed in third place at a distance of 131' 2".

Pockoski and Betz went at it again in the 22-lb. hammer, with Pockoski pulling off a double hammer win with a distance of 113' 8-1/2". In second place was Betz with 112' 6-1/2" and in third, Frasure with 111'.

The 56-lb. weight over the bar was won by Harrison Bailey at a height of 18' 6", which equaled the ground record set by Betz in 2005. Tied for second place were Betz and Frasure at 18'.

The final event, the caber, was very close, with Betz and Brock sharing the win with 11:55 tosses; in third equal were McKim and Frasure with 11:50 and 12:10 tosses.

Overall points:
| | | |
| --- | --- | --- |
| 1. | Sean Betz | 22 |
| 2. | Eric Frasure | 26 |
| 3. | Mike Pockoski | 29 |
| 4. | Larry Brock | 31 |
| 5. | Daniel McKim | 32 |
| 6. | Harrison Bailey III | 47 |
| 7. | Mike Zolkiewicz | 48 |
| 8. | Chad Gustin | 58 |
| 9. | John Odden | 67 |
| 10. | Ryan Vierra (injured) | |
Betz commented that the Portland Games were, "great as usual. Jim and Donna Maxwell really know how to treat the athletes and direct the many other events that were ongoing throughout the day. It was a very tough competition and the standard of throwing was at its highest."


Want to talk strength? Join the IronMind® Forum!

You can also follow IronMind® on Twitter.