Rafal Kobylarz Wins IHGF Amateur Highland Games World Championships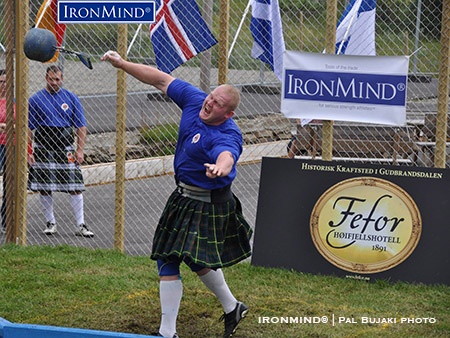 Hosted by the Fefor Høifjellshotell, in Vinstra, Norway, the 2016 IHGF Amateur Highland Games World Championships drew a broadly based international field—Poland's Rafal Kobylarz emerged as the head of the class, to claim the title.



IHGF Amateur Highland Games World Championships: Rafal Kobylarz Wins, Looks Toward Pros

by Francis Brebner
International Highland Games Federation (IHGF)
 
It was a fantastic two days of heated competition at this year's IHGF Amateur Highland Games World Championships, held in the magnificent setting of the Fefor Høifjellshotell, in Vinstra, Norway. Thirteen athletes from twelve countries competed for the title, and the atmosphere was filled with constant, high energy from the athletes as they warmed up.

In the first round with the 22-lb. Braemar stone, Rafal Kobylarz (Poland) took the early lead, increasing every round with a best of 39' 9" for the win and a new Fefor ground record. Second was Johan Longhurst with 37' and third Yrjo Hamalainen (Finland) at 36' 9".
 
Kobylarz took the lead again in the 16-lb. open stone in the first round and notched up another victory with a distance of 47' 3", claiming another Fefor ground record. Iceland's Svavar Sigursteinsson was second with a throw of 46' 9-1/2", followed by Hamalainen at 45' 10".

In the 28-lb. weight-for-distance, Kevin Becker (USA) let rip with a series of throws to win the event with 77' 9", setting a new Fefor ground record. Second place was a tussle which ended with Raynor Wortel (Netherlands) placing second at 69' 10" to third-place Kobylarz's 69' 9-1/2".

The 56-lb. weight-for-distance was a close event between Wortel and Stefan Kolitsch (Germany) with Wortel coming out on top at 35' 3", leaving Kolitsch in second place at 34' 8". Kobylarz took third at 33' 7".
 
In the I6-lb. hammer, Jamie Gunn (Scotland) dominated, delivering a blistering throw of 128' 8" to win the event and to establish yet another Fefor ground record. Second was Kobylarz at 124' 2", with Johan Longhurst (Netherlands) trailing in third at 118' 5".
 
The caber, 18' long and 130-lb., was won with a series of class tosses by Longhurst, with a best of 12:00. Kolitsch took second with an 11:45, followed by Kobylarz, also with 11:45.
 
Gunn once again showed great form in the 22-lb. hammer, winning handily with a distance 106' 4" and setting a ground record in the process. Kobylarz was second at 100' and Wortel third at 98' 5".
 
The final event of day one was a climax in the 56-lb. weight-for-height, with a very dour weight. The bar started at 13' and quickly rose to 16' feet, with eight athletes in the fray and only three clearing the bar to move on to the height of 16' 7". All three athletes—Jonathan Kelly (Ireland), Longhurst and Becker--moved onto 17' 1", and both Becker and Kelly cleared this height, moving to 17' 6". Both athletes came very close to clearing, but on countback Becker won with fewer misses, with Kelly in second and Longhurst in third.
 
Asking Kobylarz about being the newly crowned IHGF amateur Highland Games world champion, he said, "This has been my desire and ambition to win these championships. Last year it was a very close between myself and Daniel Dorow of Germany,  which came down to the last event, but this year I trained harder and it all paid off. Now I look forward to competing in the higher ranks in the professional division along with Daniel Dorow and competing in next year's IHGF Pro Highland games World Championships and to represent my country of Poland.
 

 Final Scores
| | | | |
| --- | --- | --- | --- |
| 1. | Rafal Kobylarz | Poland | 23.5 |
| 2. | Raynor Wortel | Netherlands | 37 |
| 3. | Johan Longhurst | Netherlands | 39 |
| 4. | Stefan Kolitsch | Germany | 45 |
| 5. | Jamie Gunn | Scotland | 47 |
| 6. | Johnny Kelly | Ireland | 50 |
| 7. | Svavar Sigursteinsson | Iceland | 51 |
| 8. | Kevin Becker | USA | 55 |
| 9. | Yrjo Hamalainen | Finland | 61 |
| 10. | Tibor Kiss | Hungary | 67 |
| 11. | Steven Snauwaert | Germany | 69.5 |
| 12. | Padraic Moore | Canada | 77.5 |
| 13. | Cyrille Boucher | France | 87.5 |
                                                                    ###



Follow IronMind on Twitter and on Facebook.


Want to talk strength? Visit the IronMind Forum: Strongman, grip, Highland Games, Olympic lifting, stones and more.