North American Highlander Association Nationals
"The stage is set for the first ever North American Highlander Association (NAHA) Nationals at the Dino Gym in Abilene, Kansas," NAHA founder D.J. Satterfeld told IronMind® today.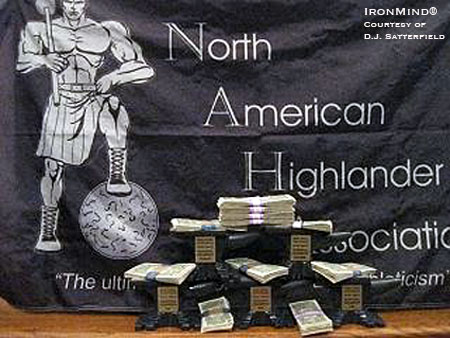 "The anvil trophies and a total of $1,000 in cash are waiting to go home with the 2009 national champions and runners-up," NAHA founder D.J. Satterfield told IronMind®.

NAHA combines traditional Scottish Highland Games and strongman events, "resulting in the ultimate test of overall strength and athletic ability," explains the organization's website.

"With less than a week to go, we are anxiously waiting to see who will walk away with the top honors," said Satterfield. "Who will they be?"
"The divisions are going to be very competitive, with strongman (pro and ams), Highland Games competitors, powerlifters, pro football players, triathletes and more, all vying for the titles. North American Highlander athletes must be very well-rounded and not proficient in just one strength discipline. The competitors are all very excited and ready to go. The action starts at 11 a.m. September 19," Satterfield said.

"Since its inception, in November 2008, the response has been nothing short of spectacular to the North American Highlander Association. In only 10 months, we are represented in 17 states and have 12 contests already on the calendar with more to come. We would like to once again thank everyone for their continued support," said Satterfield.

For details please visit the North American Highlander Association website.