Nasirshelal Blows Out Arm, Nuridinov Wins the 105s
Pyeongtaek, South Korea—This class included a lifter whose opening clean and jerk was 150 kg and another, Navab Nasirshelal (Iran), was on some short lists as a medal contender at the London Olympics.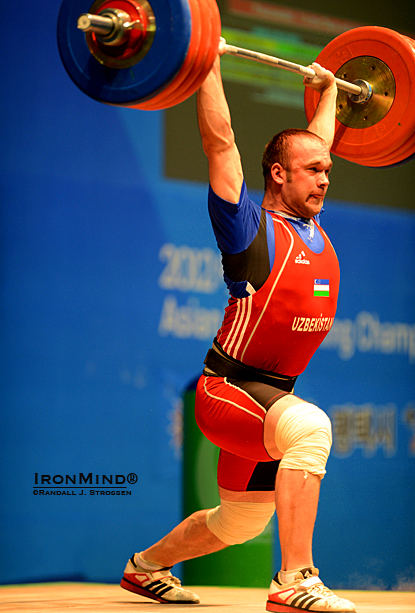 Making his 220-kg opener in the clean and jerk was all Ruslan Nuridinov needed to win the jerk and total at the Asian Weightlifting Championships. IronMind® | Randall J. Strossen photo.


Ruslan Nuridinov (Uzbekistan) opened with 180 kg in the snatch and made a good lift—based on his facial expressions and vocalizations, he might well have gone to the same drama school as Dmitry Klokov or maybe he is the Russian's understudy.

Nasirshelal missed 183 kg on his first attempt, up and over, much to the dismay of the Iranian team and one wondered if that miss had cost him the gold medal in the snatch. He repeated, made a nice success, and then Nurudinov hit 184 kg for the lead. Nasirshelal took 187 kg on his third attempt, had to make a small adjustment in the bottom position to save the lift, and then stood up carefully—what had started off poorly for him ended well and it was about to get even better.

Nurudinov called for the same 187 kg and since he was the lighter man, it would give him the gold medal in the snatch. As he was pulling, though, his right hand came off the bar and Nurudinov went flying back, up and over—even if he practiced it, his launch could hardly have been more dramatic.

In the clean and jerks, Nurudinov opened with a good 220 kg, and when Nasirshelal missed his opener, 225 kg, despite not even close on the jerk, the optimistic view was that he was on the same trajectory as in the snatch—which had a happy ending.

Nasirshelal repeated with the same weight and made short work of blasting the bar overhead for what looked like an easy lift, only to lose the jerk at the last minute. Back against the wall, he took 225 kg for a third time, banged the bar up one more time, looked as if he had the lift, but then the bar started drifting back and he fought to save it—fighting and fighting until his left arm blew out.

Nuridinov missed the jerk on 228 on his second attempt and couldn't stand with the 230 he took on his third.

It wasn't the great finish we'd hoped for, but it gave everyone a chance to refresh themselves on the Uzbek national anthem in case they'd gotten rusty on it.



###

Visit the IronMind Forum: talk strength, discuss this story. Strongman, grip, Highland Games, Olympic lifting, stones and more.

You can also follow IronMind on Twitter.