Mark Felix, Andrus Murumets, Phil Pfister and Odd Haugen Are In . . . Magnus Ver Magnusson is Calling the Shots: 2009 IronMind Rolling Thunder® World Championships
Featuring two world record-holders in the event - Mark Felix and Andrus Murumets - along with such heavy hitters as 2006 World's Strongest Man winner Phil Pfister and perennial top dog Odd Haugen confirming their entries, the 2009 IronMind® Rolling Thunder® World Championships are set to kick off Fortissimus in a big way.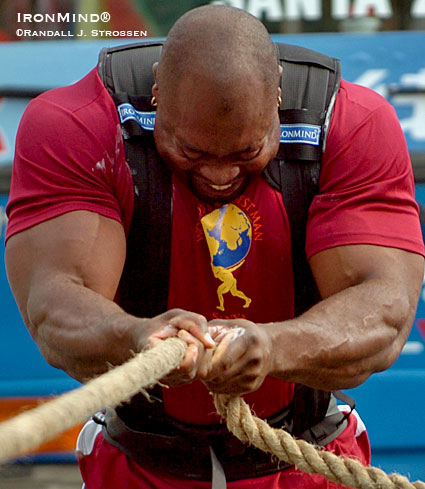 Digital power of a virtually unbelievable kind: No mere keyboard warrior, when Mark Felix wraps his fingers around something - be it a rope or a Rolling Thunder® - big things happen in the real world. IronMind® | Randall J. Strossen photo.

Besides early confirmations from Andrus Murumets, Phil Pfister, and Odd Haugen, the huge news is that in a display of its extraordinary support for this event, the Fortissimus 2009 organizing committee has announced that they are bringing in the defending Rolling Thunder World Champion and current world record-holder, Mark Felix, to compete - elevating an already top-drawer field to the highest standard on Earth.

"The current world champion will defend his title at the 2009 IronMind® Rolling Thunder® World Championships to be held Friday, June 26, in Montmagny, Québec, Canada," Fortissimus 2009 president Paul Ohl told IronMind® today. "Further, we did put his name on the Fortissimus competitors' list as first alternate.

"A two-time finalist at World's Strongest Man, Mark Felix became in 2008 the first man ever to break the 300-lb. barrier in this huge grip contest," said Ohl. "The Rolling Thunder World Championships will be the prelude to 2009 Fortissimus Strongest Man on Earth."
IronMind®'s Randall Strossen and Fortissimus's Paul Ohl have followed up on the original announcement of this event by sending out personal invitations to the competitors in Fortissimus 2009 as well as to a hand-selected group of individuals deemed potentially qualified to compete in this event.

The invitation notes, "As befits something with such a rich history, four-time World's Strongest Man winner Magnus Ver Magnusson will be refereeing the 2009 IronMind® Rolling Thunder® World Championships," so this contest is laden with talent from stem to stern.