Luke Raymond Certifies on the IronMind Red Nail
Physical therapist Luke Raymond said one of his former patients, Jedd Johnson, introduced him to grip strength and now, five months later, Luke has been certified as bending the IronMind Red Nail under official conditions.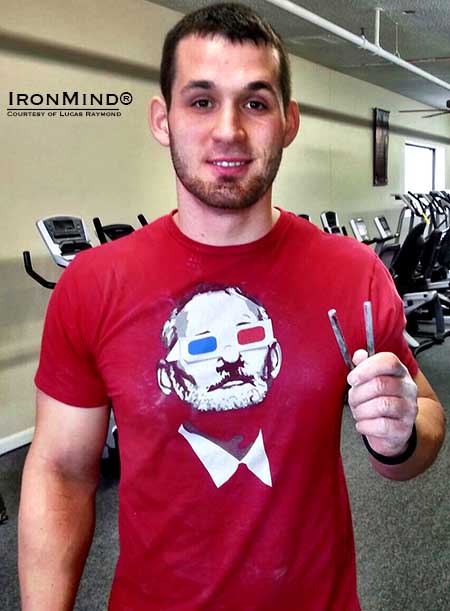 Luke Raymond has been certified on the IronMind Red Nail and his name added to the Red Nail Roster—the list of men who have officially succeeded with this benchmark steel bend. IronMind® | Photo courtesy of Luke Raymond


"I have a prior background in residential construction for 6 years while I was in college. I have been a very active person all my life, participating in baseball, football, basketball, golf, men's softball, and weight training. I did not get into weight training until after I tore my ACL in 2007 while playing flag football and have become very dedicated.

"I have participated in 4 grip contests over the past few months . . . following [a] contest Mike Rinderle was performing some bending and I was interested. With a little instruction on technique I was able to bend the 60 penny nail first attempt.

"I have been bending roughly 1 day/week in between my workouts, with technique advice from both Jedd Johnson and J. T. Straussner. I would like to thank Bob Thomas for taking his time to be my referee; Jedd Johnson, J. T. Straussner, Mike Rinderle, and all the grip community for the motivation and help along the way. I'm looking forward to continue my journey in the grip sport," Raymond told IronMind.

Bob Thomas deserves a special mention because he has been refereeing official attempts for IronMind for years—he did the honors for Jedd Johnson over 10 years ago, for example, when Jedd (and Jim Smith) were just starting off in grip strength—and Bob's roots in the iron game are both broad and deep. Thank you, Bob!

Congratulations, Luke—your name has been added to the Red Nail Roster.


###



Want to talk strength? Join the IronMind Forum.

You can also follow IronMind on Twitter and on Facebook.