Kazan, Russia—Vladislav Lukanin delivered the host country's first gold medal at the European Weightlifting Championships tonight.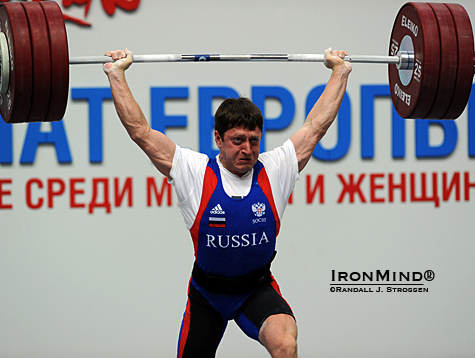 Attacking the weight, Vladislav Lukanin punched up this 186-kg jerk, to win the men's 69-kg class at the European Weightlifting Championships.


After only making his opener, 146 kg, Lukanin finished third in the snatches, but he more than made up for that in the clean and jerk. Four kilos ahead of him at that point, Constantin Martin (Romania) had swept through three good snatches and maintained that pattern in his first two clean and jerks as he hit 176 kg and 181 kg..

Lukanin, who opened with a good 177-kg clean and jerk, was within striking range of the gold medal, especially after Daniel Godelli (Albania), sitting on a 145-kg snatch, dislocated his left elbow on his second jerk, 179 kg.

Lukanin came out for his second attempt with his signature kamikaze abandon and attacked 186 kg, and made another good lift. Martin tried to answer with the same weight, to leapfrog over Lukanin for gold medal position, but he missed the jerk, and Lukanin, now with the gold medal in hand, passed on his third attempt.

###

IronMind Forum: talk strength, discuss this story. Strongman, grip, Highland Games, Olympic lifting, stones and more.

You can also follow IronMind on Twitter.