Highland Games: Tommy de Bruijn Out for Season
Tommy de Bruijn has informed the International Highland Games Federation (IHGF) that he is withdrawing from this year's events due to injuries, Francis Brebner told IronMind®.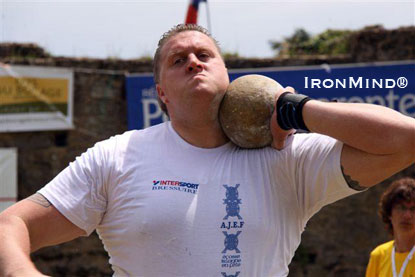 Highland Games competitor Tommy de Bruijn, citing injuries, has withdrawn from the 2010 IHGF season. IronMind® | Photo courtesy of Francis Brebner.


Noting that this was a very hard decision for De Bruijn to make, Brebner said, "The IHGF are very sorry to see Tommy having to withdraw, but thinks also it is a wise decision on Tommy's part. For all Tommy's fans out there, we are sure that we will see a revived and energized Tommy for the 2011 season of IHGF events."

"After several months of preparation, I made a tough decision on whether or not to compete in the year 2010, this both national and international. I decided to pull out for at least a year," de Bruijn explained. "Fact is that I've never truly recovered from last year's knee injury.

"This injury, a result of both competition and heavy training, is one I suffered before. Somehow I'm so used to it that I picked up training again for the upcoming season too soon, with the result that it tends to get chronic.

"Training heavily together with running my company worsened the injury. There is no way I can increase the training intensity without aggravating my knee," De Bruijn continued.

"It takes several days each time I train to get pain-free and get back on the pitch again. Last season taught me I had to [improve] my technique. For this I had to increase my throwing practices. The interval of recovery stands in the way of making true progression. [Beyond] painful it's [also] a real frustration. A strong will and being able to handle pain is not enough to overcome this; I must truly recover to have a chance in picking up this level of sports again.

"Besides recovering, I will put my energy in organizing the Masters' World Championships in Ooidonk.

"Thanks for the support and let me end with quoting the Governor of California: 'I'll be back!'"